Wan Hai A07 is one of two container vessels belonging to the first 13,100 TEU fleet of Wan Hai Lines (Taiwan), delivered at the end of October 2022, being a part of constantly increasing capacity and upgrading fleet strategies to provide the best quality service to their customers and expand its global shipping network.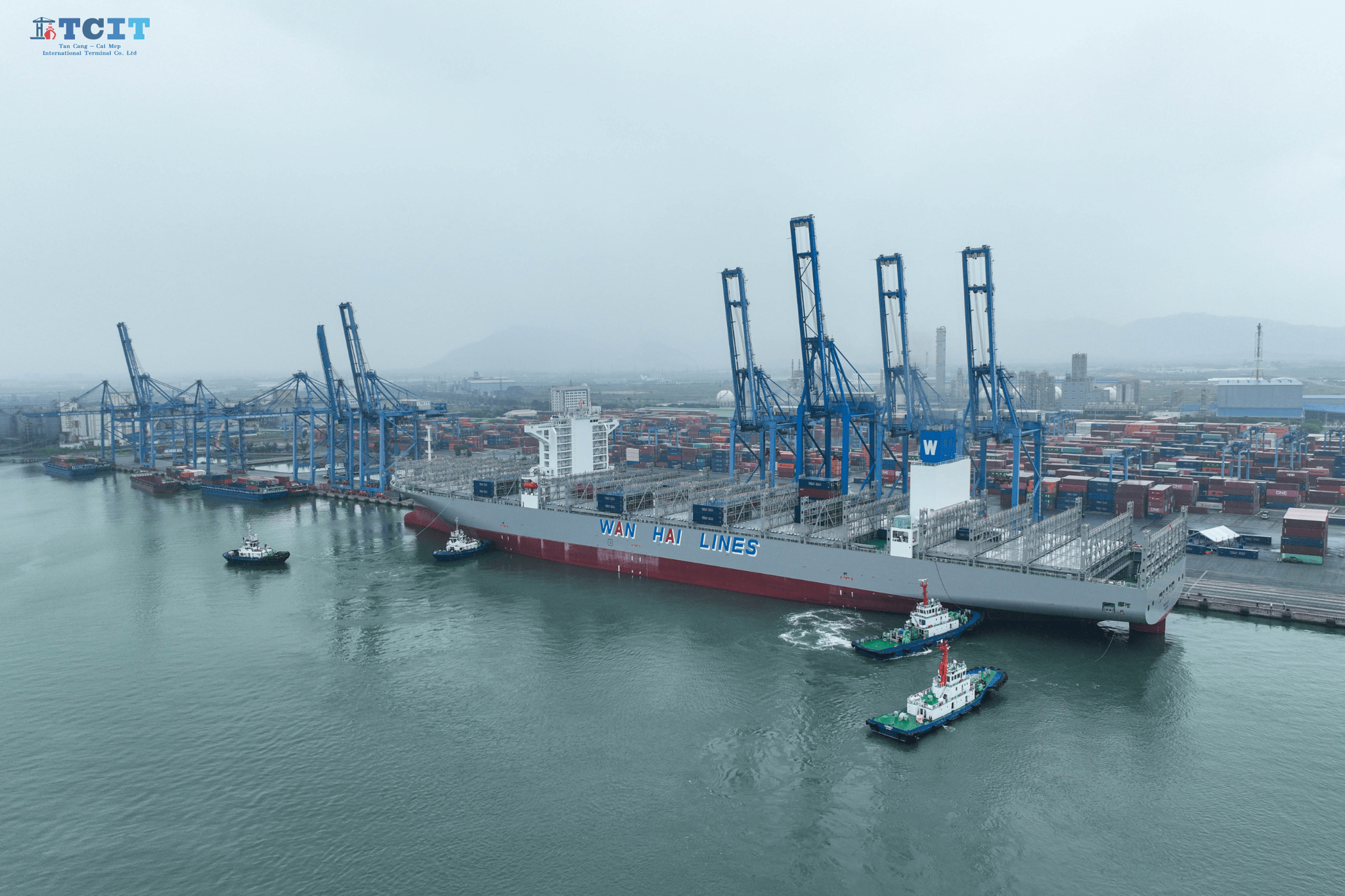 Wan Hai A07 calling at TCIT
According to Wan Hai Lines, "This is a line of ships designed with energy efficiency and eco-friendly aspects in mind, fully equipped with balanced torsion ball rudders, pre-spin fins and AMP (Alternative Marine Electricity) system. With an overall length of 335 meters, a width of 51 meters, a draft of 16 meters and a maximum cruise speed of 22 knots, the WAN HAI A07 is currently one of the largest ships in the fleet owned by Wan Hai Lines. In addition, the line has the "Smart Ship" certification and meets the highest requirements for EEDI (Energy Efficiency Design Index)".
AA3 service is operated by Wan Hai Lines with the rotation as follows: Hai Phong (HICT) – TCIT – Hong Kong – Yantian – Xiamen – Long Beach – Shekou and a fleet of 9 vessels with an average capacity of 5,500 TEU. The fleet upgrade of AA3 route is to meet the constantly increasing volume since being deployed at TCIT in March 2021, as well as to help the shipping line save operating costs per container while bringing numerous options for logistics businesses, opening up opportunities to expand markets and boosting exports between Vietnam and the US.
With the capacity and experience to handle big vessels up to 160,000 DWT and the great support and coordination of Pilots, Tugboats, Port Authority, and Border Guard, TCIT has successfully received Wan Hai A07 and handled more than 2,000 TEUs (1 TEU = 1 20-foot container) after 9 hours of loading and unloading with a productivity of 120 Containers/hour.
In this challenging time, TCIT highly appreciates the trust, companionship and cooperation of Wan Hai lines for being not only one of TCIT's shareholders but also a strategic customer during the past 13 years. TCIT is proud to be a reputable partner of Wan Hai Lines in Cai Mep area to deploy 3 weekly service lanes connecting Vietnam to US and Intra Asian markets. As the No.1 deep-water terminal in Vietnam, TCIT always strives to become the customer's first choice for container transshipment and soon to be the international transit hub in Southeast Asia.