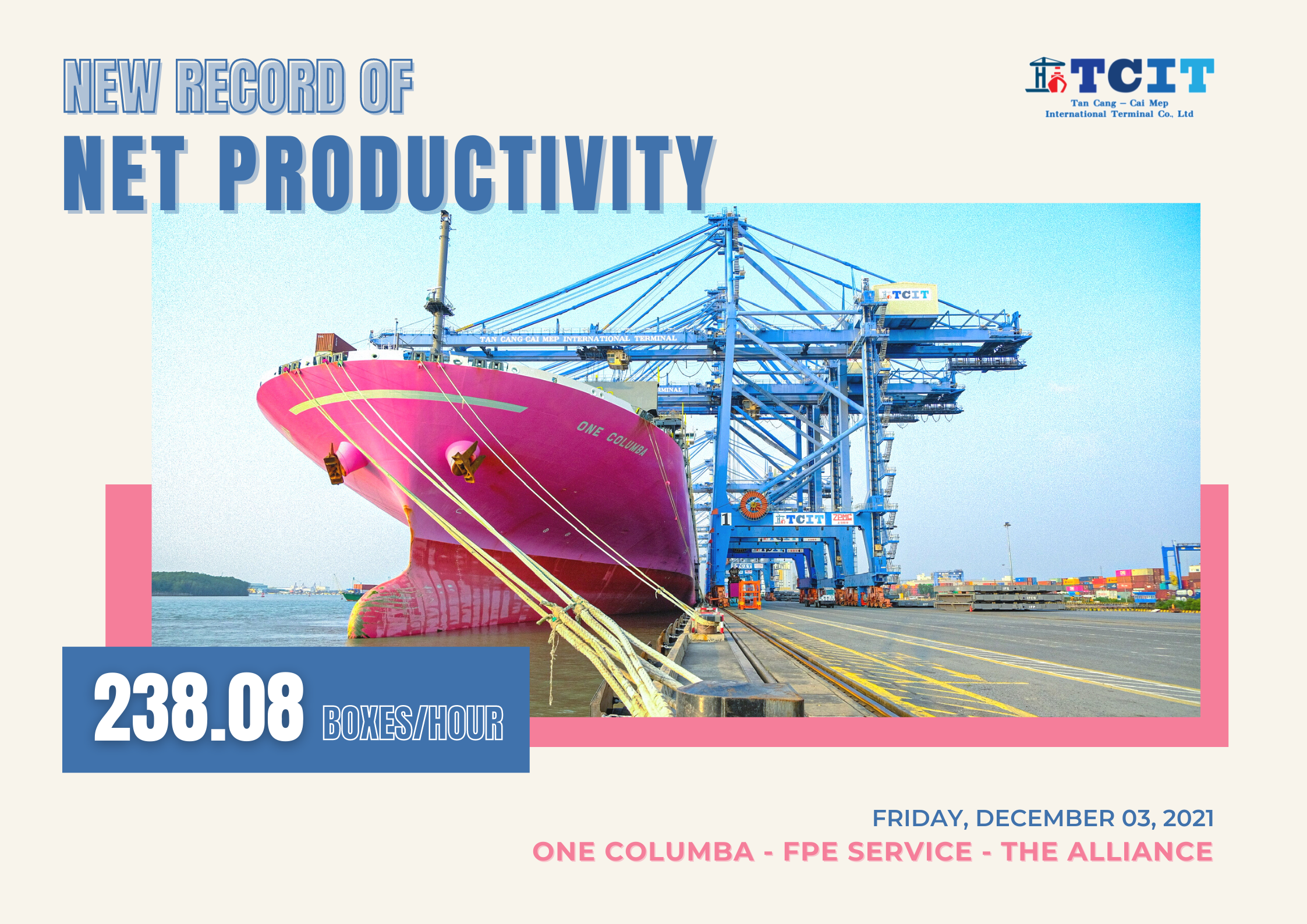 In 2021, Vietnam in particular and the world in general have been continuously facing a lot of difficulties and challenges under the significant impact of the Covid–19 pandemic, in which the risk of supply chain disruption and cargo congestion has noticeably affected the producers and consumers. In the past 2 years, TCIT has always strengthened the prevention and control of the outbreak, strictly complying with 5K regulations, regularly assessing disease risks at the workplace in order to build plans, set goals and find solutions to keep the safety of customers and employees in parallel with maintaining smooth-running operation as well as circulation of goods, also preventing terminal congestion; at the same time, been continuously investing in modern equipment for accommodating and handling big capacity vessels, improving vessel handling productivity, while offering the best quality service to customers. In particular, the efforts to enhance handling productivity have brought numerous benefits to customers as well as shipping lines in saving time and costs of handling containers at the terminal.
With tight and scientific cooperation with shipping lines in the arrangement of berths and implementation of handling plans, along with the great attempt and determination of the entire TCIT's employees, TCIT achieved a new record in handling productivity of 238.08 containers/hour and average net crane of 47 containers/hour/crane, within just over 14 hours of handling on ONE COLUMBA vessel belonging to FPE service on December 3rd 2021, surpassing the previous record of 208.28 containers/hour when handling the YM UPWARD on December 10, 2020.
This is an impressive achievement in the 11-year journey of TCIT 's operation (2011-2021), especially in the context that major ports in the world are congested and the number of ships waiting for berthing has been increasing unprecedentedly due to the consequences of Covid-19 and the disruption of the global supply chain. In the coming time, with the aim of responding to the trust of our valued customers, TCIT constantly strives to reach new peaks in terminal operation and control, thereby making a great contribution to attracting more potential customers, creating momentum for Cai Mep - Thi Vai deepwater ports in general and TCIT in particular to become the customer's first choice for container transshipment and play a key role in the international transit hub of Vietnam to worldwide
* The FPE service route is a pendulum service that connects Europe - TCIT - the US West Coast, operated by THEA Alliance, with the rotation as follows: Rotterdam - Hamburg - Antwerpen - Southampton - Suez/ El Suweis - Jeddah - Singapore - Laem Chabang - TCIT - Hongkong - Yantian - Long Beach - Oakland - Yokohama - Hongkong - Laem Chabang - TCIT, having a fleet of 8 ships with a capacity of 14,000 TEU and deployed at TCIT since the beginning of April 2020.