In the early days of 2021, Tan Cang – Cai Mep International Terminal (TCIT) was awarded Green Port Award by the APEC Ports Service Network (APSN) Council, becoming the second terminal of Vietnam that achieved this award after Tan Cang Cat Lai (in 2017), enhancing the position of TCIT in particular and Vietnam seaport system in general.
About Green Port Award System (GPAS)
GPAS (Green Port Award System) program is a green evaluation system for ports in the APEC region developed by APEC Port Services Network (APSN). It represents an integral part of APEC Transportation Working Group's ongoing efforts to promote the green growth of the port industry.
Inspired by Ecoports in Europe and Green Marine in North America, GPAS was designed as an evaluation system at the beginning. However, it was developed differently from Ecoports and Green Marine to be suitable for all ports in APEC region. Since 2011, APSN has conducted two rounds of pilot programs to test the evaluation scheme, created an Implementation Plan and established a Pool of Expert port professional to review GPAS applications. In 2016 GPAS was officially launched.
Applicants for GPAS can be any port (port authorities or port operators) that are implementing green programs to improve the environmental sustainability of their operation in the last three or more years.
The objective of GPAS is to encourage green and sustainable development in port and port related industries. In particular, it aims to provide a platform for sharing of best practices among ports in the APEC region, to raise the profile of ports committed to green practices, and to improve their capacity for sustainable development.
Participation in the GPAS program by APEC members will promote greater awareness of efforts taken by APSN ports to improve the environment and create a sustainable future for society.
TCIT awarded GPAS 2020 by the APEC Ports Service Network (APSN) Council
The Green Port Award is an acknowledgment of the APEC Port Community on the efforts of the Board of Directors and all employees of TCIT in recent years in port developments and sustainable environmental protections. Since the beginning of operation, under the right vision, orientation and development strategy of TCIT's joint ventures: Saigon Newport Corporation and three well-known companies including Mitsui O.S.K Lines (Japan), Hanjin Shipping or currently Hanjin Transportation Company (Korea), together with Wan Hai Lines (Taiwan), TCIT has invested in a system of electrical-operated equipment such as Ship-to-Shore cranes (STS), electric-Rubber Tyred Gantry cranes (e-RTG), etc... which help to reduce CO2 emissions instead of diesel-operated equipment. In addition, TCIT is constantly innovating equipment using clean and natural energy to further improve operational efficiency and protect the environment; changing and replacing the entire lighting system from using light bulbs, OSRAM to use LED on crane system. Continuously improving handling productivity, TCIT not only helps the customers in saving costs and reduces waiting time at terminal but also minimizes negative impacts on the environment. There are solutions to reduce dust in the air, reduce noise and radiation such as planting trees along berths and constructing internal roads in terminal to improve the landscape as well as to improve the surrounding air environment, installing specialized treatment and recycle system for hazardous and solid waste... Especially TCIT paid special attention to the training programs of staff on environmental protection as well as organizing many activities to protect the green, clean and beautiful environment.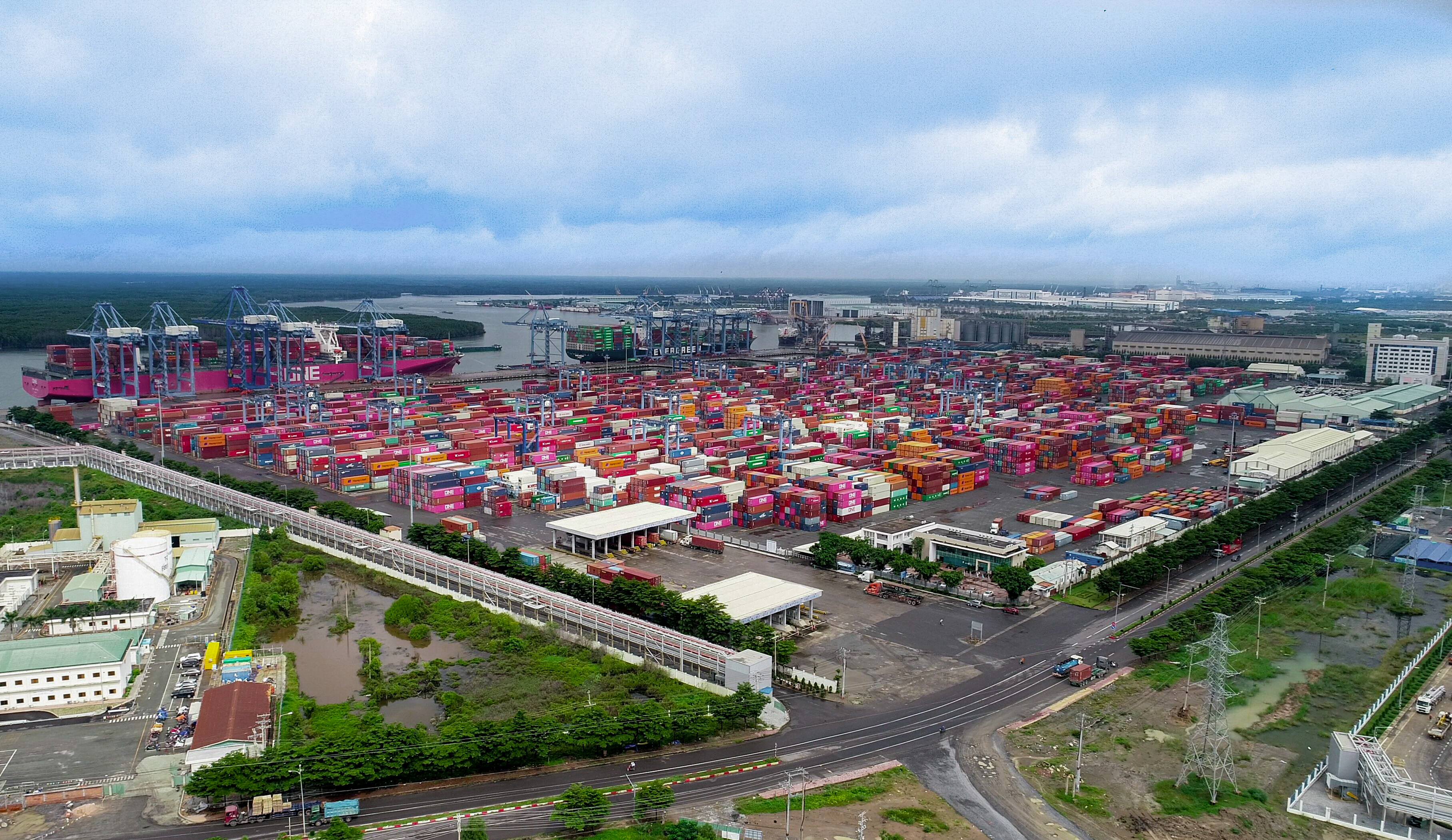 The Green Port Award is a remarkable and encouraging milestone for Vietnam seaport system in general and TCIT in particular when continuing to be recognized by reputable worldwide organizations, taking the lead in "Green port" system targets. This also is the orientation of Vietnamese government about investigating and exploiting "greener" seaports following the model balancing between environmental fluctuations and economic development globally and domestically. (Reference: Decision No. 2027 / QD-BGTVT approving the master plan on development of Vietnam's seaport system through 2020, with orientations toward 2030, signed on October 22, 2020 by Mr. Nguyen Van Cong - Deputy Minister of Transport). During the past 10 years of officially operation (15/01/2011 – 15/01/2021), along with many business achievements, this award is not only an encouragement for all staff of TCIT – one of SNP members, the top port operator of Vietnam, but also sets the mandate of ensuring commitment to sustainable green port development as well as wide spreading this orientation in near future.
GPAS GREEN PORTS: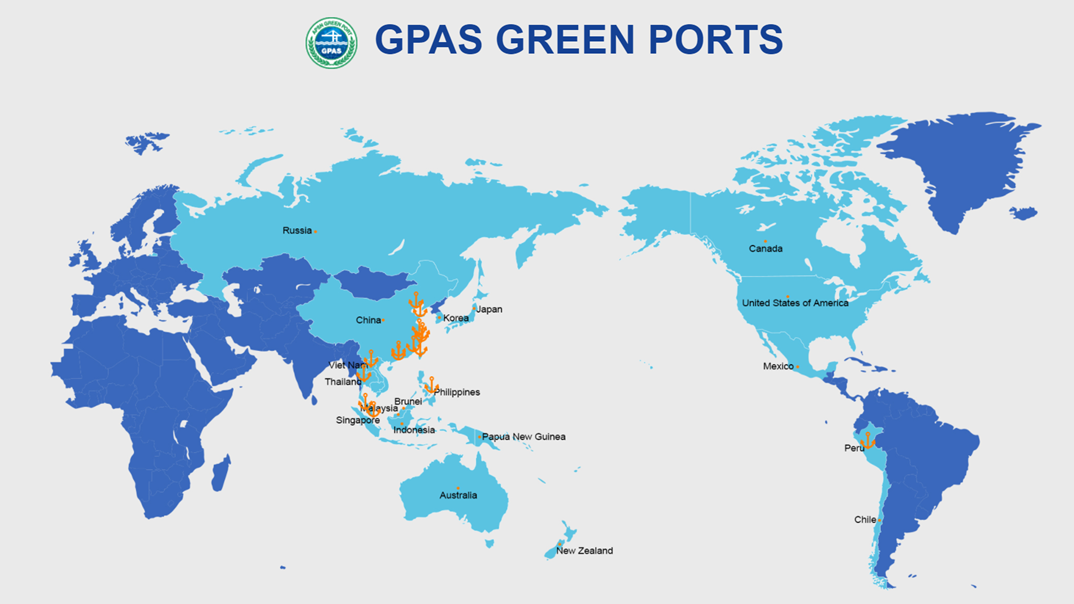 Laem Chabang Port (Thailand)
Lianyungang Xin Su Gang Terminal (China)
Port of Taichung (Chinese Taipei)
Qingdao New Qianwan Container Terminal (China)
Sapangar Bay Container Port (Malaysia)
Terminal Internacional del Sur S.A (TISUR) (Peru)
Terminal Portuario PERU LNG Melchorita (Peru)
Bangkok Port, Port Authority of Thailand (Thailand)
Jurong Port Pte Ltd (Singapore)
Port of Singapore (MPA, Singapore)
Xiamen Hairun Container Terminal (China)
Kai Tak Cruise Terminal (Hong Kong, China)
Port of Cagayan de Oro (The Philippines)
Xiamen Ocean Gate Container Terminal (China)
Port of Taipei (Chinese Taipei)
Shanghai International Port(Group) Co., Ltd. Shangdong Branch (China)
Bintulu Port(Malaysia)
Chiwan Container Terminal Co., Ltd (China)
Johor Port Authority (Malaysia)
Port of Batangas (Philippines)
PSA Singapore (Singapore)
Shekou Container Terminals Ltd (China)
Tan Cang Cat Lai Port (Viet Nam)
Bangkok Port - Thailand;
Jurong Port - Singapore;
Ningbo Zhoushan Port, China;
Port Klang, Malaysia;
Port of Singapore;
Tanjung Pelepas Port, Malaysia;
Qinhuangdao Port – China (branch No.6 of China)