Within less than 7 days, new handling records per mother vessel at TCIT have been continuously set, starting with 14,235 TEUs on MEISHAN BRIDGE on 10 Jun 2021, then experiencing the record-breaking trend while exceeding the previous one with 15,615 TEUs on MONACO BRIDGE at 09:00 on 19 Jun 2021. This is also recorded as the highest volume per vessel ever handled in Vietnam, making an important contribution to affirm and enhance the position of Vietnam's seaport industry in general and Cai Mep - Thi Vai deep-water port area together with TCIT in particular.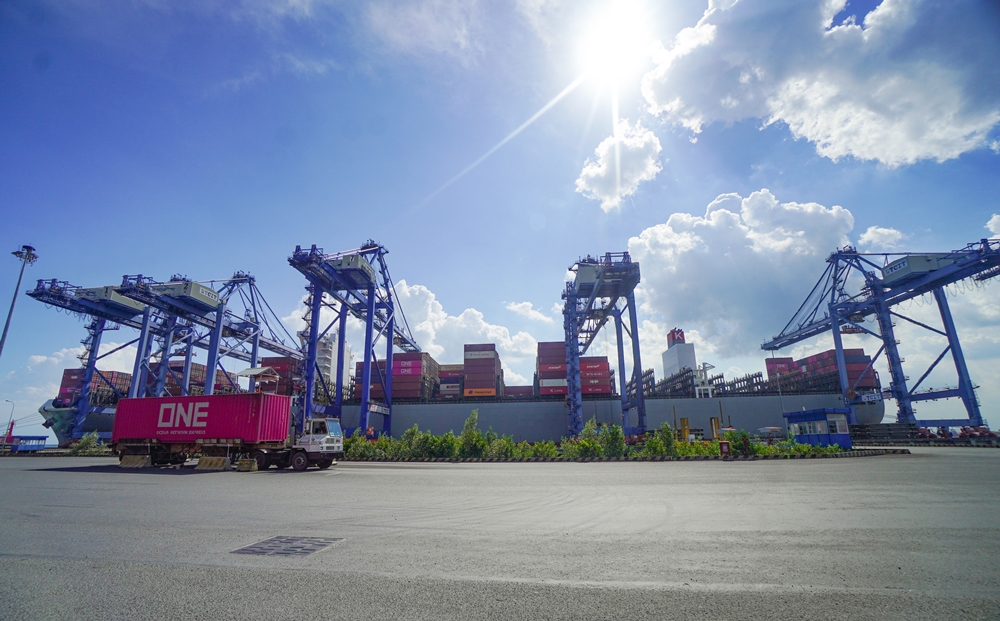 15,615 TEUs – New highest handling record per mother vessel in Vietnam achieved by TCIT on MONACO BRIDGE
During the last decade, the seaport industry of Vietnam and the world has constantly improved capacity to meet the trend of increasing vessels' size of the shipping industry as well as the surging demand for maritime transport, especially considering the role of fleets with the vessel size from 12,500 TEUs (accounting for about 30% of the world's current fleet, 77% of the ordered fleet, and total of 36% of the future fleet). MONACO BRIDGE and MADRID BRIDGE are two vessels operated by Ocean Network Express (ONE) in a fleet of 14,000 TEUs capacity, 366 meters in length, deployed on the EC4 service of THE Alliance (including 4 shipping lines: ONE, Hapag-Lloyd, Yang Ming and HMM), connecting Vietnam to the East Coast of the United States. Continuous breaking through and setting records of handling volume has once again proved the capacity of TCIT- leading deep-water terminal of Vietnam, at the same time, a testament to the development of Vietnam's economy.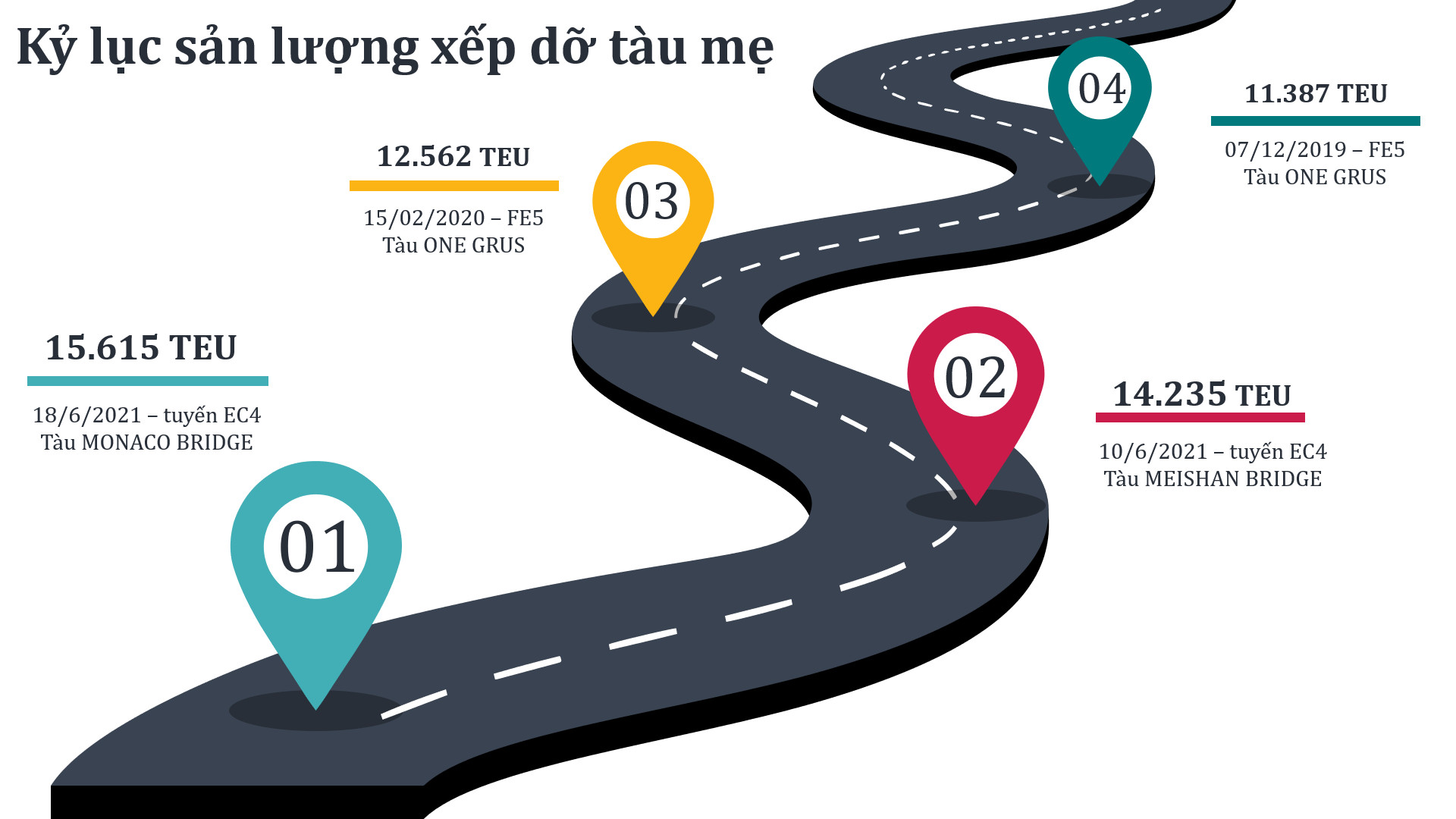 Records of highest volume handled continuously achieved at TCIT
In the face of socio-economic status being significantly impacted by Covid-19 pandemic, Vietnam has still maintained a stable growth of the economy, especially the import – export activities have obtained positive development. According to VPA, in the first 5 months of this year, the total throughput volume through Cai Mep - Thi Vai area reached 2.3 million TEUs, up by 47% comparing to the same period last year, in which the volume of US import and export reached nearly 1.3 million TEUs, growing 35% over the same period, continuously being in the top fastest growing seaport of the world with an average growth rate of about 22% per year.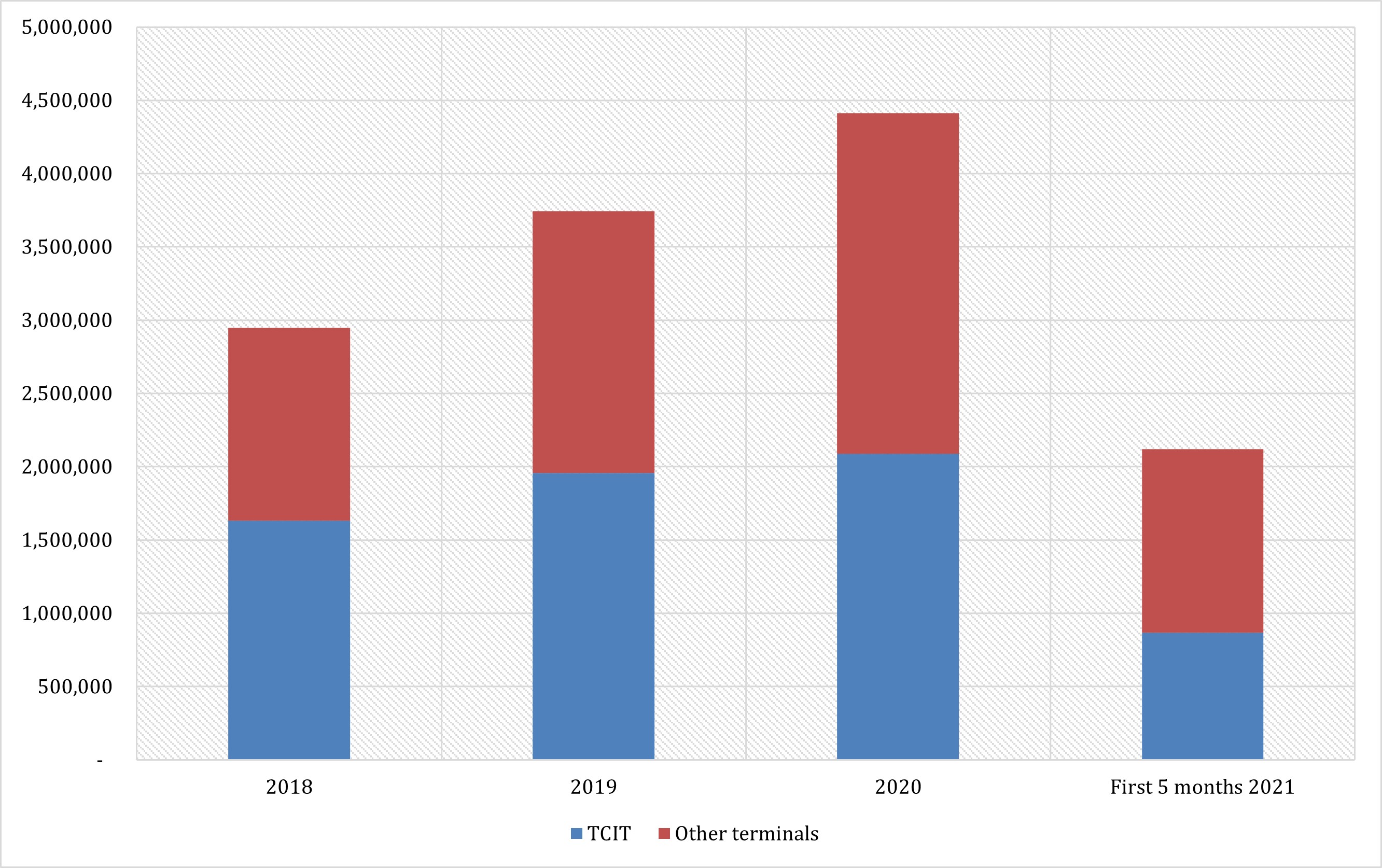 Container volume at Cai Mep – Thi Vai deep-water ports (2018 – May 2021)
In the first half of 2021, TCIT has made great efforts in maintaining the smooth-running operation so that the supply chain will not be interrupted under impact of the outbreak, at the same time offering professional and best quality services to customers. Playing a significant role in the national economy – as an international trade port in Southern Vietnam key economic region, TCIT has always strictly implemented the Government's policy of "dual goals" while containing the spread of the COVID-19 pandemic and achieving impressive results. Mr. Akira Kurita - General Director of TCIT said that TCIT's total throughput volume in the first 6 months of 2021 was expected to attain 1.1 million TEUs, up 13% in comparison to the prior year same period, comprising 42% market share in Cai Mep - Thi Vai deep water ports. Moreover, TCIT has continuously been trusted and selected by shipping lines as a reliable partner to develop and expand their market in Vietnam, specifically in the first 6 months of 2021, TCIT has deployed 3 new service routes, including AA3, AA7 (connecting Vietnam - US) and CI8 (connecting Vietnam - West India) operated by Wan Hai Lines, raising the total number of international service routes at TCIT to 11 routes, including 7 routes to North America, 1 route to the US-Canada, 1 route to Europe and 2 routes to Intra-Asia.
In the near future, so as to meet the market trend and customers demand, TCIT will continue to expand the co-operation, accelerate investment in modern equipment to strive to further improve our service quality, increase the competitiveness, satisfy the increasing requirements of the global supply chain, along with repaying trust of shipping lines and customers while continuously opting for TCIT as a reliable destination of best service quality as well as implementing capability of highest-volume service routes in Vietnam, affirming the position of being the leading deep-water terminal in the country.