East Coast Loop 5 (EC5) Service Update - Port Kelang Call
Please be advised as part of a schedule recovery program, a temporary Port Kelang omission has been decided for the East Coast loop 5 (EC5) Service, affecting the following vessel voyages: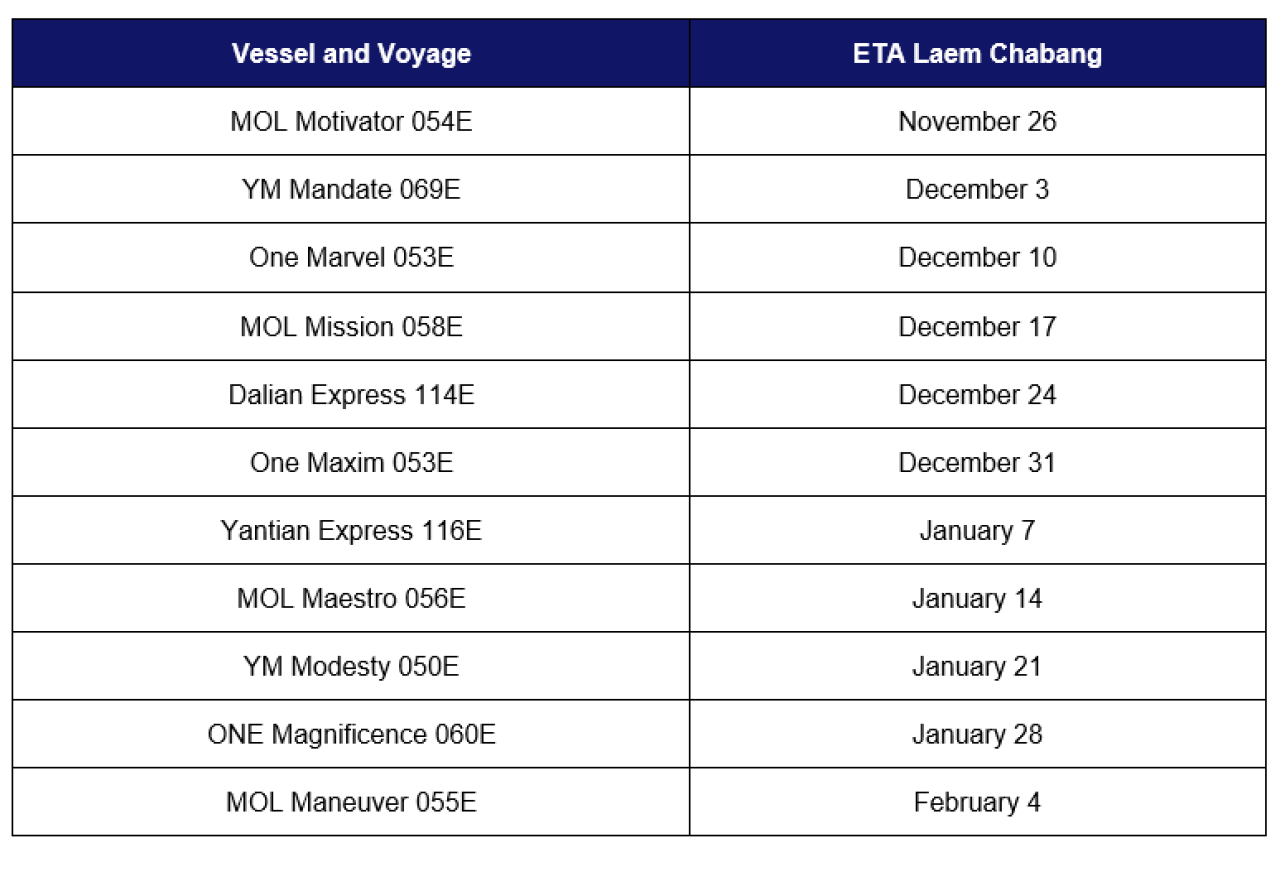 As alternative options, outbound and inbound Port Kelang cargo will be arranged via Singapore. Kindly note that at this time there are no other changes to the current pro-forma schedule for the EC5 service.
Source: https://www.hapag-lloyd.com/
Too few intra-Asia transport routes through Cai Mep - Thi Vai
According to the import-export (import-export) enterprises, one of the regrettable things about the Cai Mep-Thi Vai port system (CM-TV) is that there are too few intra-Asia transport routes. Many enterprises within the "cargo base" of Cai Mep - Thi Vai that have import and export needs in this route are transporting goods to Cat Lai port (Ho Chi Minh City)
ENTERPRISE IN BR - VT IN DISADVANTAGE
Nitori BR-VT Company Limited (Phu My 3 Intensive Industrial Park, Phu My Town) is a company specializing in manufacturing furniture and input materials, mostly imported from Asian countries. Furniture products are then exported to Japan. Although the company is located near the CM-TV port cluster, most import-export goods have to clear customs at Cat Lai port. Mr. Suzuki Tadashi, representative of Nitori Group, said: "We really want 100% of imported and exported goods to be checked in at CM-TV, however, due to the low frequency of intra-Asia train lines to CM-TV, it is necessary to transport goods to Cat Lai port. This makes costs so high.
According to enterprises, bringing goods to Cat Lai port for import and export causes enterprises to spend more than 4 million VND / container if traveling by road, more than 2 million VND / container if traveling by water (barge). Representative of Kraft of Asia Packaging Paper Factory (KOA), located in Phu My 3 specialized industrial zone of Marubeni Group (Japan), said that when the factory was operating at full design capacity, the factory's import and export volume up to 40 thousand containers / year. Meanwhile, at present, only 1% of the factory's import-export goods are processed at CM-TV, the rest must go to Cat Lai port. If all goods imported and exported to Asia are made at CM-TV, this enterprise will save a huge amount of money annually.
Meanwhile, Ms. Phan Thi Minh Huong, Head of Import-Export Department of SanFang Vietnam Co., Ltd. (My Xuan A2 Industrial Park, Phu My Town) said, because the quantity of goods of enterprises is too much in Cat Lai, real time. Currently, import and export procedures are often prolonged, increasing storage costs. Not to mention, Asian domestic ships have to go through transshipment ports in Singapore and Hong Kong, causing the "fleet" cost to be nearly 200 USD / container.
THE SOURCE IS NOT ENOUGH
BR-VT currently has more than 60% of imports and 80% of exports in intra-Asia. Out of the 30 train lines calling at CM-TV, only 7 are intra-Asia. This fact shows that the number of intra-Asia shipping routes at CM-TV is too small compared to Cat Lai port (currently 83 routes).
Mr. Nguyen Anh Triet, Head of the Management Board of IZs, said that according to statistics, enterprises in the province exported 1.5 million tons / year and imported 2.3 million tons / year and mainly imported and exported within Asia. with the proportion of imports accounting for 85%, and exports accounting for 60%. However, imports and exports in the intra-Asia market through the CM-TV port system only reach about 3-4% / year.
Why have shipping lines not increased intra-Asia service calls via CM-TV? Mr. Van Nhat Tung, Marketing Director of CMA-CMG Vietnam Joint Stock Company - a shipping company with the second largest market share in Vietnam explained: "In fact, the volume of import-export containers of enterprises in BR- VT is still few. Most of the manufacturers with great demand for goods import and export are located in the provinces of Dong Nai and Binh Duong, but the transport costs from these localities to BR-VT are quite high. In the future, if the source of goods in BR-VT is sufficient, shipping lines will consider docking CM-TV ".
PORT MUST BE READY FOR THE FUTURE
According to statistics in the CM-TV region, intra-Asia ships mainly focus on 3 shipping lines: MSC, WHL and One. To increase intra-Asia ships, over the past time, a number of ports have implemented temporary solutions. For example, Saigon Newport is combining two-way cargo, namely a combination of transshipment and service goods; connecting CM-TV port area with customers in Long Binh (Dong Nai); Thanh Phuoc (Binh Duong) by waterway. Since then, shipping company One has brought JSM service to TCIT port, increasing the number of intra-Asia services of this shipping company via CM-TV to 4 routes. Therefore, total intra-Asia cargo volume of TCIT and TCTT (under Saigon New Port) increased by 41% and 83% in the first 10 months of 2020 compared to the same period in 2019.
Regarding the future development trend, Mr. Truong Tan Loc, Marketing Director, Saigon Newport Corporation (SNP) said that sooner or later, the deployment of more intra-Asia routes into CM-TV will come. This is because ships are inclined to use large mother ships and only CM-TV can accommodate them.
In fact, if increasing intra-Asia route through the CM-TV port system, the port enterprises need to continue investing in receiving capacity. Along with that is to invest in synchronous infrastructure, forming a logistics "ecosystem" such as dry ports, empty container warehouses, inspection and testing centers and synchronously connected traffic. Regarding the capacity of the port system, Mr. Vu Hong Hung, Director of TCTT port, said that CM-TV currently has 5 container ports in operation with the capacity of 5.1 million TEUs. In the second quarter of 2021, Germalink port is expected to go into operation, so the output can reach 6.6 million TEUs. By that time, CM-TV is capable of receiving 9 more intra-Asia calls.
Source: Baobariavungtau
OOCL Places Orders for Seven 23,000 TEU Containerships

OOCL Germany calls at Eurogate Container Terminal in Wilhelmshaven, Germany.
Hong Kong-based container shipping company Orient Overseas Container Lines has placed shipbuilding orders for seven additional 23,000 TEU megaships at Chinese yards.
The shipbuilding contracts, worth more $1.1 billion in aggregate, were announced Tuesday in a stock filling by Orient Overseas (International) Limited, OOCL's parent company. They contracts were signed with COSCO-affiliated shipyards in Nantong and Dalian, which will construct three and four vessels each, respectively.
Delivery is anticipated for the third quarter of year 2023 and third quarter of 2024.
The contracts build on OOCL's order for five 23,000 TEU ships placed in March 2020. For those, Nantong is constructing three of the vessels while Dalian is constructing the other two. Delivery is planned to begin 2023.
At 23,000 TEU capacity, the vessels will be the largest in OOCL's fleet, overtaking its six G-class ships which clock in at 21,000 TEU. The G-Class ships were ordered in 2015 and but a follow on order for additional ships never materialized due to poor market conditions at the time followed by COSCO's proposed $6.3 billion takeover of OOIL. The merger was completed in mid 2018 and integrated the fleets of COSCO and OOCL, helping form what is now the world's third largest shipping group.
Source: Gcaptain.com
Shippers Face Record Rates and Surcharge Surge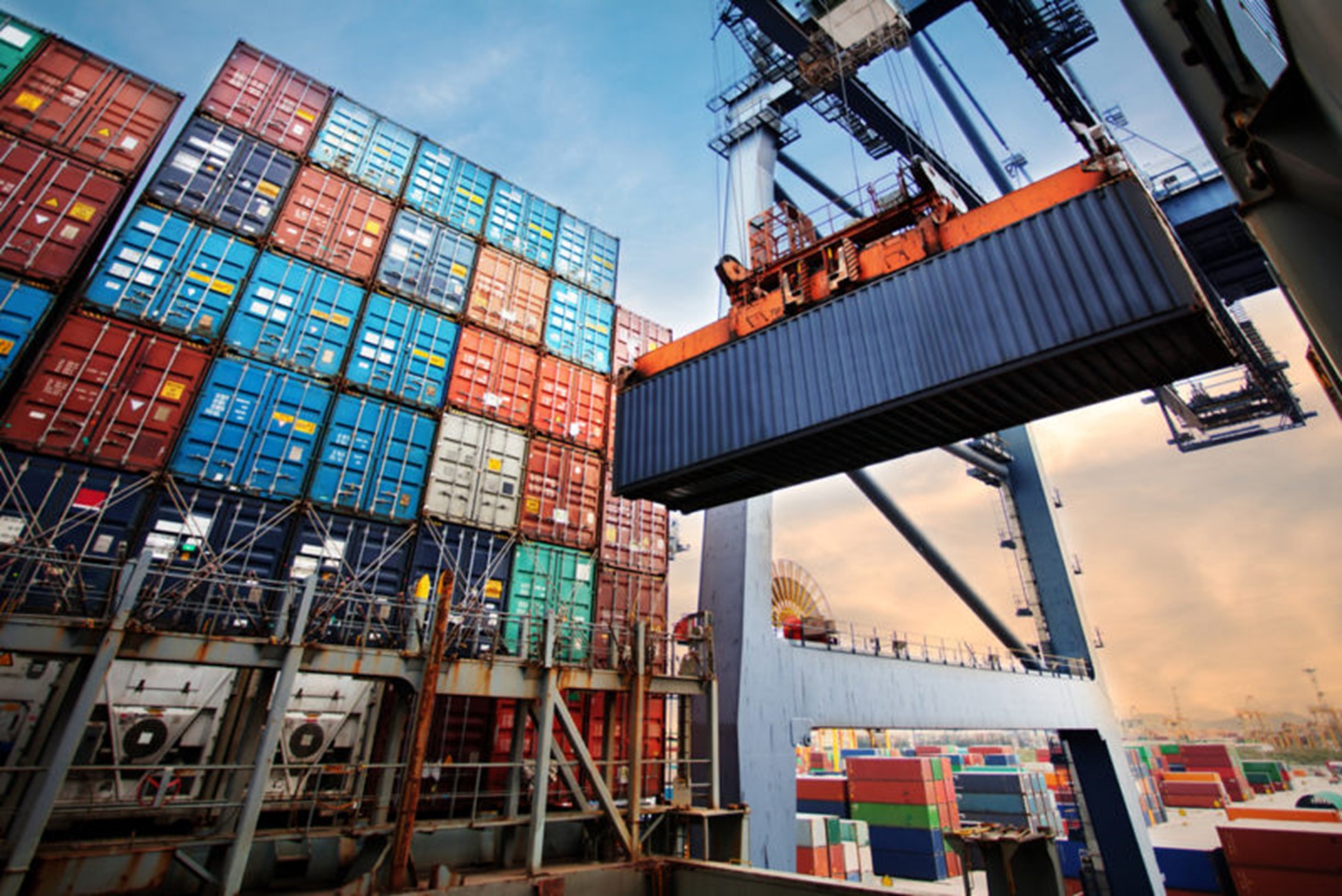 FILE PHOTO: MOLPIX / Shutterstock
With shippers facing skyrocketing container freight rates and premium fees across main and secondary trades, ocean carriers are now pummeling their customers with a mass of equipment imbalance and intermodal surcharges.
The strategy of carriers is to get as many boxes back to Asia in the shortest possible time to take advantage of exceptionally strong demand and record high rates, and to do so it is hitting shippers with extra costs.
The Loadstar reported last week that Asia-North Europe carriers were charging up to $5,000 per 40ft for guaranteed equipment and space on ships from Asia, but, under the radar, backhaul rates have also been spiking and are up over 100% year on year.
Anecdotal reports to The Loadstar suggest that to guarantee a shipment to Asia, North European exporters are paying considerably more than the circa $1,200 per 40ft recorded by Drewry's WCI index.
"The first problem is to find a carrier and a port that will accept our boxes, and after that there is normally some sort of add-on," said a UK shipper.
"If we want to get our cargo shipped promptly we don't really have any other option than to pay," he added.
Meanwhile, European shippers of temperature-controlled cargo to the Middle East and Asia are also facing additional charges as the reefer equipment is in increasing demand on the head haul Asia-Europe route as a substitute for standard containers to accommodate bookings of high-paying electronic goods.
MSC is among carriers to surcharge export reefers, adding $500 a box from 10 November.
"Due to the strong demand of reefer containers for European exports, and consequent need of costly ad hoc inventory positioning, MSC will implement an equipment imbalance surcharge (EBS) for reefer cargo moving from Europe to the Middle East and Far East," said the carrier.
Elsewhere, MSC has announced an emergency intermodal charge (EIC) in North America of $350 per container from 4 December for boxes moving on both the head haul and backhaul routes, which it said was necessary "due to the ongoing congestion situation at the ports of Los Angeles and Long Beach".
Indeed, the two biggest US ports are in danger of being overwhelmed by an unrelenting flood of imports. According to LA's Signal data forecaster, which provides a three-week overview of container imports, predicted volumes arriving at the port complex next week will 26% higher than the same week of last year and an astonishing 56% higher for the week after.
"So far, we see strong demand through to the end of November which means it will roll into December," said Jon Monroe, of Washington state-based Jon Monroe Consulting.
He said online spending in the US was "continuing to trend up" and that the demand was being attributed to a consumer shift in spending from services to retail and noted that Christmas shopping had already begun with "Black Friday deals everywhere" in the US.
"It is very possible that demand will continue through to the Chinese New Year [12 February]," he added.
Source: Gcaptain.com
Asia container shortage worsens, even for premium services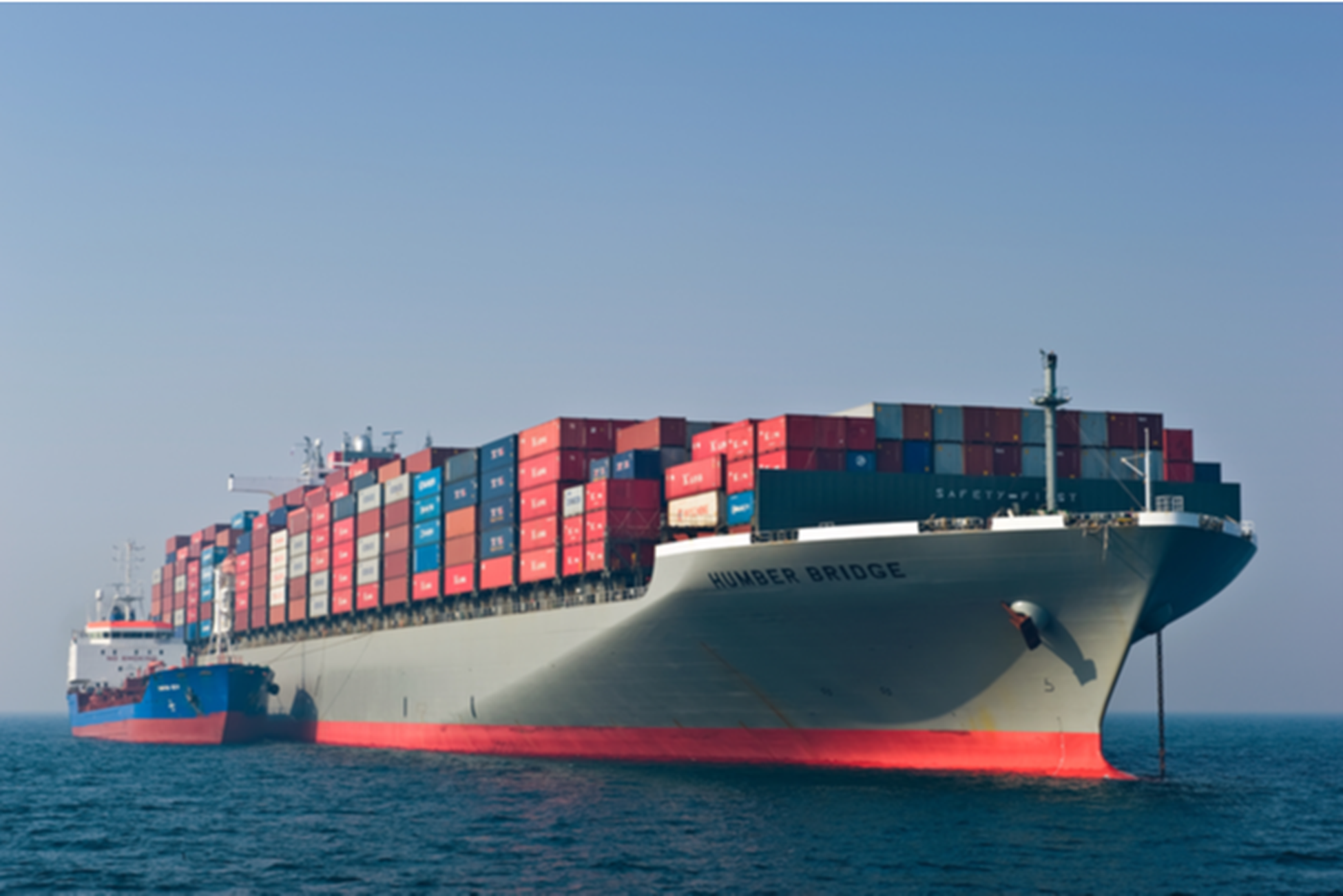 Freight forwarders say that container shortages at Asian ports are so severe that carriers with premium trans-Pacific services are sometimes unable to guarantee customers' equipment will be available at the Asian load ports they serve.
The container shortages are so acute, particularly at the Chinese ports of Xiamen, Ningbo, and Shanghai, that some vessels are leaving Asia without full loads because there is not enough equipment to be found, non-vessel-operating common carriers (NVOs) told JOC.com. US imports from China moving through the ports of Los Angeles and Long Beach have been exceptionally strong since late June when the economy began to reopen from initial COVID-19 lockdowns.
"There are literally not enough containers to fill their vessels," said Jon Monroe, who serves as a consultant to NVOs.
Several carriers, including APL/CMA CGM, Matson Navigation Co., Zim Integrated Shipping Services, and more recently, Maersk Line, have been offering premium services during the surge in volumes, which guarantee customers equipment and priority loading at Asian ports, shorter transit times, and priority discharge at the US port for premium freight rates. According to NVOs, premium services charge well above $4,000 per FEU to the West Coast, compared with the average spot rate of $3,849 per FEU listed on the Shanghai Containerized Freight Index published on the JOC Shipping & Logistics Pricing Hub.
But the inability of carriers to guarantee equipment negates the purpose of the premium service.
"Overall, equipment is a huge issue, but the real issue now is getting space," said Phil Tran, director of international services/North America at APL Logistics.

US importers face several barriers at Asian load ports
Alan Baer, president of OL-USA, a forwarder and NVO, likened the current booking process to a series of hurdles NVOs or retailers have to face as the container shortages in Asia continue unabated. First, there is a "six-foot barrier" in securing a booking. Once the booking is made, the customer has to jump a "four-foot hurdle" to get a container for the shipment. If the booking is made and the container is secured, there's a final "two-foot barrier" to get the container loaded onto the ship, Baer said.
Since the surge in US imports from Asia began in late June, Monroe has been urging shippers to book two or three weeks in advance, but says shippers are still getting shut out regularly. Some have tried to book space on premium services four to five weeks in advance, but carriers won't let them book that far ahead, he said.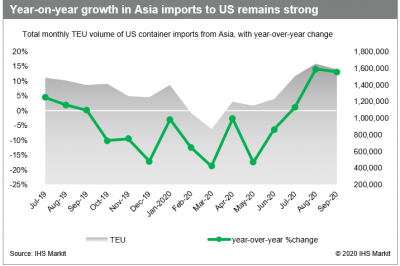 A spokesperson for a carrier with a premium service, who asked not to be identified, said carriers have tried everything at their disposal to return empty containers from the US to Asia. Those measures include reducing free storage time at warehouses in the US, denying export bookings to quickly turn the containers and get the empties back to Asia, and repositioning empty containers to Asia from other trade lanes.
"All options are exhausted," the spokesperson said.
The trans-Pacific premium services, which are concentrated in the ports of Los Angeles and Long Beach, are most popular for shippers of high-value, time-sensitive goods such as personal protective equipment (PPE), medical supplies and equipment, and e-commerce fulfillment. Some shippers who require expedited service have shifted from air freight to premium ocean services because airlines have canceled a large number of passenger services from Asia to North America during the COVID-19 pandemic, eliminating much-needed aircraft belly space for freight.
In Matson's Q3 earnings call, CEO Matt Cox said he expects to see heightened demand from e-commerce shippers continue for its two premium services from China to Long Beach because they are "perfectly suited" to an environment in which air cargo capacity is constrained.
Import volumes in Southern California will remain strong for at least the next two weeks, according to weekly TEU counts from the Port of Los Angeles' Signal platform, which projects imports moving through the largest US container port for a three-week period based on scheduled vessel arrivals. Signal predicts import volumes will total 126,032 TEU this week before dropping slightly next week to 120,751 TEU, then soaring to 170,569 TEU during the week of Nov. 15. Weekly import volumes have averaged about 120,000 to 130,000 TEU since Signal was launched in early September. Laden imports in 2019 averaged 90,658 TEU per week, according to the port's website. Imports through neighboring Long Beach are not tracked.
Source: Joc.com

Bao Long Phu My port
Bao Long Phu My Port will build an inland waterway port located on Mo Nhat river (Phu My 2 Industrial Park, Ba Ria Vung Tau)
Capacity: 3,000 tons (DWT) ship
And 5 berths with a total length of 400m berths
Plan to start construction in November 2020, and phase 1 is expected to be completed in August 2021
Source: tuoitre.vn