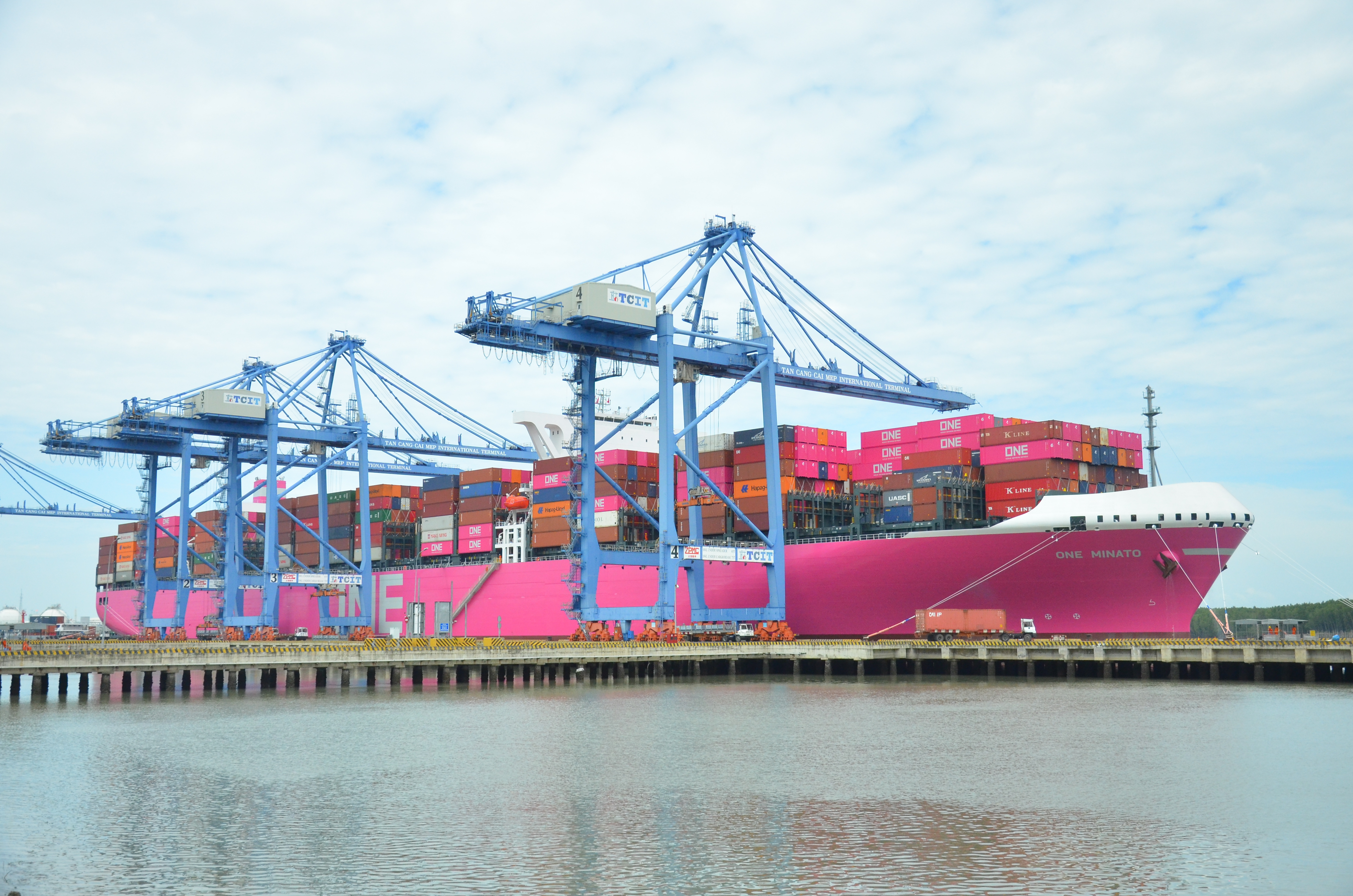 ONE Receives Another 14,000 TEU Magenta Newbuilding
Singapore-based container shipping company Ocean Network Express (ONE) has taken delivery of ONE Columba, a 14,000 TEU containership newbuilding.
The 138,611 dwt ship was delivered to ONE by Kure Shipyard, part of Japan Marine United Corporation.
Featuring a length of 364.15 meters and a width of 50.6 meters, the Panama-flagged boxship is owned by Nippon Yusen Kaisha (NYK).
This is ONE's fourth newly built 14,000 TEU magenta containership received this year, following the deliveries of ONE Stork, ONE Minato and ONE Aquila.
Currently, three more ONE vessels are under construction, all of them slated for delivery in 2019.
According to the company, ONE Columba employs a hull form that optimizes cargo-loading efficiency, achieved by minimizing engine-room space. The vessel is also equipped with dual system application in its main engine, capable of adopting either high or low output ranges, allowing operational flexibility and improved fuel-consumption rate, resulting in the reduction of carbon dioxide emissions.
As informed, the ship will phase in THE Alliance's Asia to Europe, Far East Europe 5 (FE5) service,ith its port rotation Leam Chabang, Cai Mep, Singapore, Colombo, Suez Canal, Rotterdam, Hamburg, Antwerp, Southampton, Suez Canal, Jeddah, Colombo, Singapore and Laem Chabang. This is the largest containership to ever call Leam Chabang to meet the demand of economic growth in Thailand, NYK said.
Yang Ming Optimizing Fleet with 14,000 TEU Quartet
Yang Ming Marine Transport Corporation will introduce four 14,000 TEU chartered vessels to optimize its fleet in the improving market while returning seven higher-cost chartered vessels in 2019, the company announced in a fleet update.
The first of five 14,000 TEU boxships the Taiwan's shipping firm chartered from Shoei Kisen Kaisha, the shipowning arm of Imabari, was named at Imabari Shipbuilding in September 2018.
The 14,000 TEU YM Wellbeing is the 16th 14,000 TEU vessel to join Yang Ming's global container fleet. The vessel was deployed in THE Alliance's MD2 service in October.
Commenting on the business performance, the Taiwanese shipping company said that its 3rd quarter consolidated revenues came at USD 1.29 billion, a growth of 15.23% compared to the previous quarter. Q3 volumes increased by 9.19% to 1.41 million TEUs compared with the 2nd quarter.
Yang Ming's net loss after tax for Q3 was USD 30 million, a reduction of 76.16% compared to last quarter, and USD 220 million for the nine-month period.
The year-to-date consolidated revenues increased by 4.12%, year-over-year, to USD 3.45 billion, and volume increased by 11.35%, year-over-year, to 3.92 million TEUs.
The main factors impacting results were unfavorable supply-demand balance with weakening freight rates and escalating bunker prices, which rose 28.38% in the first 9 months year over year.
"Anticipated for the next quarter, the escalating trade war is likely to accelerate Chinese exports to the U.S. and, therefore freight rates and loading factors should improve for the Transpacific sector. In the Asia Europe sector, Yang Ming also expects to see improving rates and volumes as factories resume production following the October China Golden week.
"Considering these factors, Yang Ming's outlook for Q4 is optimistic. Going forward into next year, Alphaliner's latest projection predicts an increase of 4.3% in global throughput which will exceed forecast capacity growth of 3.9%," the company said.
CMA CGM Charters Boxship Quartet from Poseidon Containers
French shipping giant CMA CGM has decided to charter four vessels from containership charter owner, Poseidon Containers.Under the deal, Poseidon Containers, which recently entered a definitive merger agreement Global Ship Lease, will charter the 6,927 TEU boxships to CMA CGM for a period of five years.
The charters for the containerships Mary, Kristina, Katherine and Alexandra were signed "at levels substantially above their prior contracted rates," Global Ship Lease said, adding that the charters would deliver incremental annualized EBITDA of around USD 11 million compared to third quarter 2018 contracted rates.
The new charter for Mary commenced recently, and the remaining three new charters are set to commence upon expiry of their existing charters during the first half of 2019. The company added that the new five-year charters would generate total EBITDA of USD 135 million over the five-year contract period.
"Upon closing our transformational combination with Poseidon Containers, the enhanced long-term visibility through 2024 from contracted revenue and cashflow from these charters will strengthen GSL's balance sheet and contribute to further deleveraging, which, together with increased EBITDA, will drive improvements in financial leverage," Ian Webber, Chief Executive Officer of Global Ship Lease, said.
"We are excited about joining forces with Poseidon Containers; as illustrated by these new charters, the combination will significantly increase our scale and ability to capitalize on favorable fundamentals in the mid-sized and smaller containership segments," Webber concluded.
Wan Hai Lines Pens Construction Deals for 20 Boxships
Taiwanese container shipping company Wan Hai Lines has signed the contracts for the construction of 20 container vessels with Japan Marine United Corporation and Guangzhou Wenchong Shipyard Co., part of China Shipbuilding Trading Company.
The contract includes eight 3,036 TEU container vessels that will be built by JMU and twelve 2,038 TEU containerships the construction of which has been entrusted to GWS.
"This new shipbuilding contract is the company's latest fleet renewal plan, so as to ensure that the company's vessel fleet is able to maintain competitive and support continuous market development," the company said.
Under the contract, Wan Hai has the option to order additional four 3,036 TEU vessels within 6 months and four 2,038 TEU vessels within 3 months.
The newbuild boxships are set to start delivery in the end October 2020 continuing into January 2021.
Currently, Wan Hai Lines operates a fleet of 72 owned vessels and 24 chartered vessels.

Source: World Maritime News