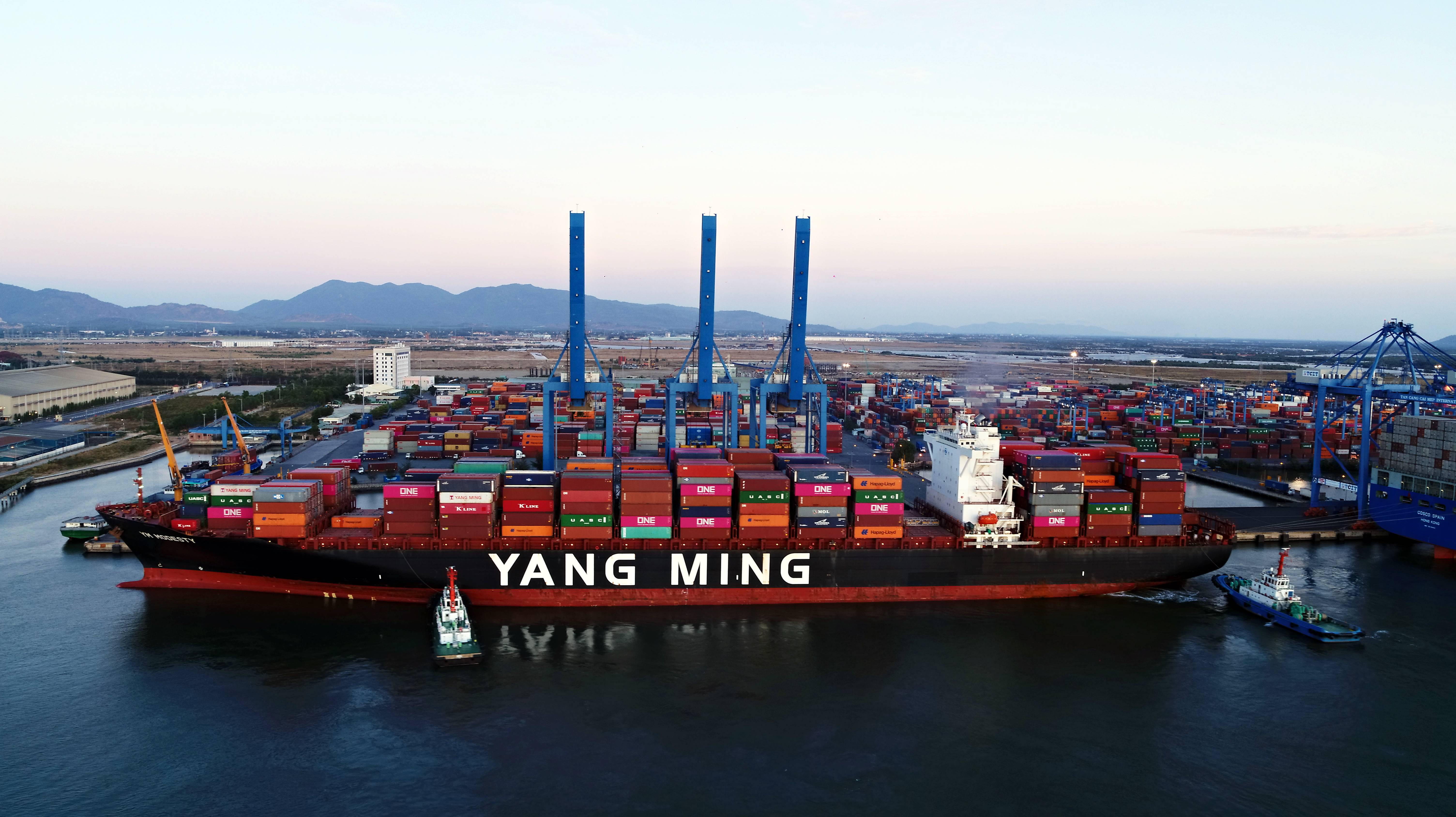 Yang Ming: Another Two 14,000 TEU Containerships Launched in Japan
Two new 14,000 TEU containerships chartered by Taiwanese shipping company Yang Ming have been splashed in Japan.
The launching ceremony took place at Imabari shipyard on March 6, 2019.
Named YM Warranty and YM Wellspring, the newbuilds are the fourth and the fifth of the five 14,000 TEU ultra large container vessels (ULCVs) Yang Ming chartered from Shoei Kisen Kaisha.
YM Warranty and YM Wellspring — both flying the flag of Panama — currently have a market value of USD 95.6 million and USD 99.1 million, according to data provided by VesselsValue.
They belong to the same type as YM Wellbeing, YM Wonderland and YM Wisdom which were delivered to Yang Ming recently.
The ships are designed with a nominal capacity of 14,220 TEU and equipped with 1,000 reefer plugs. Each of them features a length of 366.44 meters and a beam of 51.2 meters. The vessels can reach a speed of up to 23 knots.
Since 2015, a total of 20 newly-built 14,000 TEU full-container vessels have been added to the Yang Ming fleet. YM Warranty and YM Wellspring are the last two of them and will join Yang Ming's service in the near future.
In addition to the 14,000 TEU vessels, Yang Ming will also deploy its own ten 2,800 TEU ships and fourteen chartered-in 11,000 TEU ships, which are to be delivered between 2020 and 2022.
Wan Hai Lines To Enhance Japan To Straits Services Coverage
Wan Hai Lines is pleased to announce the enhancement of its Japan service coverage. With effect from early April 2019, the company shall upgrade its existing New Super 1 service and also extend one of its existing Japan Kanto service to cover Malaysia.
* Upgrade existing New Super 1 service(NS1) to Panamax vessel size.
The service will maintain 4 vessel deployment with WHL deploying 2 x 4250Teu vessels, while IAL and OOCL deploys 1 vessel each. The service adjustment is expected to take effect on 11th April, eta Hong Kong.
The service rotation covers:
Osaka – Kobe – Nagoya – Yokohama – Tokyo – Hong Kong – Singapore – Port Klang – TCIT – Shekou – Hong Kong – Osaka.
* Extend existing Japan Kanto service to Straits: New Super 5 service (NS5)
Wan Hai Lines existing Japan-China-Vietnam service(JCV2) will be restructured to call Malaysia. The service shall be operated with 4 vessels in 1700Teu nominal size. WHL shall deploy 3 vessels and IAL 1 vessel.
The change will take place WEF 1st April 2019 and its service rotation covers:
Tokyo – Yokohama – Chiba – Keelung – Taichung – Hong Kong – Cat Lai – Port Klang – Penang – Hong Kong – Shekou – Tokyo.
These service enhancements not only help to complement Wan Hai Lines' existing Japan to Straits services but also give it a more comprehensive coverage by integrating a series of NS1, NS2, NS3 and NS5 services. The company thus strongly believes customers will be better served and further benefited from the above-enhanced services.
Hapag-Lloyd Looking for Terminal to Offload Intact Yantian Boxes
German shipping major Hapag-Lloyd is searching for a terminal where it could offload the undamaged containers from the fire-stricken Yantian Express.
In its latest advisory, the company said it is "exploring options with regard to the balance of the containerized cargo, which is unaffected by the fire and remains in a dry and sound condition."
Hapag-Lloyd explained that it is "not in a position to discharge sound cargo at the vessel's current location," which consists of a temporary yard that is meant to handle only the distressed cargo.
While there is a containerized terminal berth in the vicinity, the company said that it appears that, at the moment, such terminal may not have sufficient capacity for the sound cargo. The company is investigating alternative options.
Regarding ongoing salvage operations for damaged containers in Freeport, Hapag-Lloyd said that these are continuing as planned with the discharge of fire impacted containers and door end inspections of potentially damaged containers as identified and documented.
"Based on the information available at this point, we anticipate such discharge to take approximately five weeks from now to reach its completion," the advisory reads.
Yantian Express suffered the fire, which started on its deck and towards the fore end of the vessel, on January 3. The containership arrived in Freeport, Bahamas on February 4, 2019, and started discharging damaged containers in late February.
Hapag-Lloyd earlier said that up to 202 containers have been identified to be a total loss due to the fire. Once unloaded, these containers would not be inspected and would be sent for destruction, Richards Hogg Lindley (RHL) as General Average and Salvage Adjusters informed.
CMA CGM Unveils Massive Cost-Cutting Plan
French shipping major CMA CGM is launching a USD 1.2 billion cost reduction plan despite record revenues seen in 2018.
As informed, the company will implement "a global plan" in 2019 to improve its operational performance.
CMA CGM intends to achieve this objective through the optimization of lines and brands, and by further streamlining its processes.
"In 2019, despite persisting geopolitical tensions, trade perspectives are positive. We will continue our development with the objective of improving profitability. That is why we are launching a new USD 1.2 billion cost reduction plan," Rodolphe Saadé, Chairman and Chief Executive Officer of the CMA CGM Group, commented.
The group closed 2018 with record revenue of USD 23.48 billion, an increase of 11.2% when compared to revenue of USD 21.12 billion seen a year earlier.
In 2018, volumes carried by CMA CGM for the first time exceeded 20 million TEUs, rising by 9.3% year over year.
The increase was attributed to the commercial dynamism of most of the shipping lines operated by the group, in particular the Transpacific, India/Oceania and Africa lines.
"In 2018, in a difficult environment, the Group posted a sharp rise in volumes and a record revenue of nearly USD 23.5 billion. Despite an increase in oil prices, our recurring EBIT margin remains considerably above the industry average," Saadé said.
"We are pursuing our strategy of innovation and digital transformation in order to continue to offer excellent service to our customers and strengthen our performance," he added.
During 2018, the group accelerated its digital transformation through the development of IoT and Artificial Intelligence, as well as partnership agreements related to blockchain. In addition, the CMA CGM Group opened an incubator in Marseilles, ZEBOX, which already hosts 15 start-ups from around the world.
CMA CGM also initiated a major strategic partnership with Swiss logistics company CEVA Logistics. The acquisition was approved by the European Commission in January this year.
CMA CGM currently controls a fleet of 509 vessels with a combined capacity of 2.71 million TEUs. In addition, its terminal network comprises 45 strategically-placed terminals worldwide
Commentary: Chinese New Year blanked sailings surge
BlueWater Reporting's database illustrates that blanked sailings between China and North America and North Europe drastically increased from 2018.
Chinese New Year is one of the largest externalities impacting the global maritime industry each year.
According to the World Trade Organization, China is the largest exporter of goods in the world, and its top trading partner is the United States. Several North European countries are also top 15 trading partners with China, including Germany, the Netherlands and the United Kingdom. Due to this trade relationship, North America and North Europe are the most impacted regions by Chinese New Year.
Chinese New Year began on Feb. 5 this year. However, the start of Chinese New Year varies each calendar year, falling on Jan. 28 in 2017 and Feb. 16 in 2018, and it will fall on Jan. 25 next year. As a result of Chinese New Year, factories and businesses across China tend to shut down in order to celebrate, which leads to blanked sailings and fewer goods being shipped in the weeks following the start of the holiday.
Using data from the past, forecasts can be generated for how capacity withdrawn will increase or decrease during Chinese New Year in the future.
The chart below, built using BlueWater Reporting's Blanked Sailings Report, shows how withdrawn capacity on the China to North America and North Europe trades as a result of Chinese New Year has increased each year from 2017 to 2019. On the China to North America trade, vessel capacity withdrawn increased from 113,073 TEUs in 2017 to 215,344 TEUs in 2018 and 356,243 TEUs in 2019. On the China to North Europe trade, vessel capacity withdrawn increased from 125,631 TEUs in 2017 to 137,748 TEUs in 2018 and 195,551 TEUs in 2019.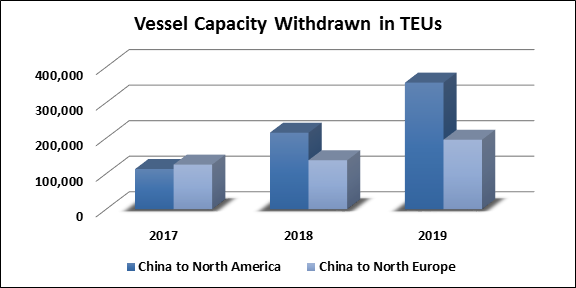 BlueWater Reporting's Blanked Sailings Report also shows an increase in withdrawn capacity from Chinese New Year on the backhaul trades from North America and North Europe to China each year from 2017 to 2019, as illustrated in the chart below. Withdrawn capacity on the North America to China trade increased from 111,006 TEUs in 2017 to 202,339 TEUs in 2018 and 343,686 TEUs in 2019. The North Europe to China trade saw withdrawn vessel capacity increase from 112,376 TEUs in 2017 to 140,248 TEUs in 2018 and 176,665 TEUs in 2019.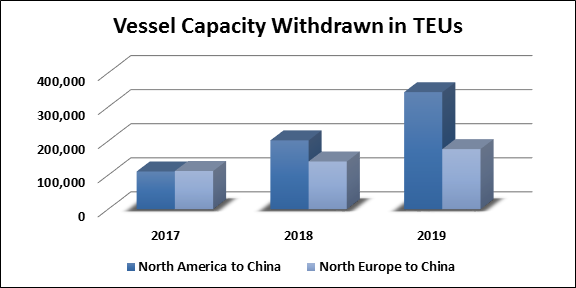 Data from Chinese New Year shows how vessel capacity withdrawn correlates with overall capacity on these two trade lanes. As overall capacity increases, blanked sailings will result in more capacity being taken off the trade route.
In the future, as vessels continue to get bigger and trade lanes continue to expand capacity, blanked sailings for Chinese New Year will have a larger impact. If the Chinese export economy continues to grow, more trade lanes internationally will experience reduced capacity by Chinese New Year.
Souce: World Maritime News, American Shipper, Website of: Yang Ming Marine, Wan Hai Lines,