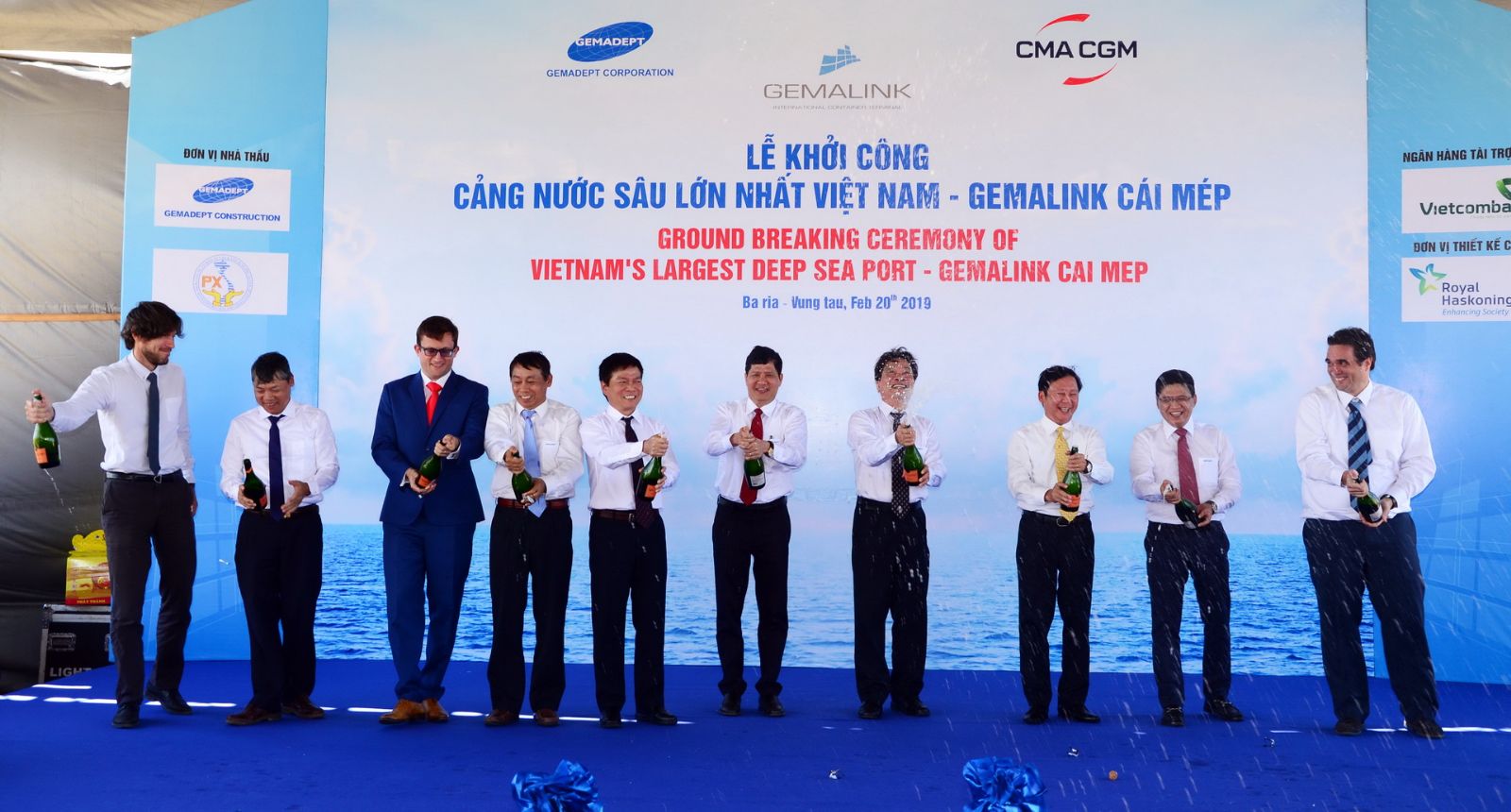 Construction resumes on Việt Nam's largest deep sea port
The ground breaking ceremony for Gemalink Cái Mép, which will become the largest deep sea port in Việt Nam. Gemadept Joint Stock Company under Gemadept Corporation on Thursday restarted construction of Việt Nam's largest deep sea port – Gemalink Cái Mép – after years of delay caused by economic downturn. The project has a total investment of US$520 million including $330 million in the first phase and $190 million in the second phase. The company said the Gemalink port in the Cái Mép – Thị Vải port area in the southern province of Bà Rịa-Vũng Tàu would span an area of 72ha and would be able to receive the world's largest ships. The port would have an annual capacity of 2.4 million twenty-foot equivalent unit (TEU). Đỗ Văn Minh, the company's chairman, said that as soon as the project completed its first phase, Gemalink would double the container loading capacity at Gemadept's seaports and complete its service chain nationwide. Construction started on Gemalink in 2010; however, it had to halt construction two years later due to economic difficulties. The port is expected to be operational in 2020. Gemalink is a joint venture between Gemadept Corporation and French shipping firm CMA-CGM. Gemadept holds 75 per cent of shares. In 2017, the corporation was restructured by selling shares in some member companies to prioritise restarting the project.

Damaged Yantian Express Boxes Yet to Be Discharged
Hapag-Lloyd's fire-stricken Yantian Express was still waiting to discharge its damaged containers two weeks after it arrived in Freeport, Bahamas on February 4, 2019.
According to an advisory release by Ocean Network Express, the Port Authority is yet to give their final approval to start discharge operations, which is expected to be received in the next few days. The authority is monitoring the preparation of the site.
"We are in close contact with the local authorities to be able to start discharging of the distressed containers soonest. We hope to receive permission to commence this operation shortly and based on the information currently available, we expect the discharge to take approximately two months," ONE added.
Containers and cargoes considered unaffected by the fire incident are in a dry and sound condition, and the company is exploring its options.
Hapag-Lloyd earlier informed that up to 202 containers have been identified to be a total loss due to the fire, which started on Yantian Express' deck and towards the fore end of the vessel on January 3. At the time, the ship was on its way from Colombo to Halifax.
Once unloaded, these containers would not be inspected and would be sent for destruction, Richards Hogg Lindley (RHL) as General Average and Salvage Adjusters informed.
Customs and Border Protection has issued guidance to importers and their customs brokers whose containers were stuck on board a Hapag-Lloyd ship that caught fire in early January while en route to the U.S. East Coast.

Hyundai Merchant Marine's (HMM) president and CEO, Chang Keun Yoo, has decided to resign from his position next month, the South Korean shipping company confirmed to World Maritime News.
As informed, Yoo will formally announce his resignation at the upcoming shareholders meeting scheduled for the end of March 2019.
C.K. Yoo started his term two and a half years ago to oversee the company's restructuring efforts and lead HMM into the new era of growth.
The decision comes despite the term extensiongiven to Yoo in March 2018.
"It is not easy for me to decide to leave HMM in the middle of this critical moment of "war on loss" with the 2020 challenges looming on the horizon but I comfort myself with the thought that HMM has become much healthier than before," Yoo said in his farewell message to HMM employees.
He added that the key cornerstones have been laid for the company's sustainable and profitable growth after 2020.
Earlier this year, HMM CEO announced that 2020 will be a year of quantum leap for the company. The leap would be led by the newly ordered 23,000 TEU containerships but also by investments in IT, global network, education and improvement of customer service.
Commenting on the projects launched during his tenure, he further said: "Ultra large containerships with scrubbers are under construction and the tasks of securing the hub terminals supporting the growth of volume have been completed with the agreement on Busan terminal reached of late. Our I/T capability will be enhanced in line with our expansion plan."
"The new era requires new leadership," Yoo pointed out, expressing his hopes that the company and its employees would write "a new history of HMM" under the new leadership.

COSCO, Bolloré Team Up to Create Business Synergies
China's container shipping company Cosco Shipping Lines and French-based transportation group Bolloré Transport & Logistics have signed a memorandum of understanding (MoU) to develop new strategic cooperation.
Under the MOU inked in Shanghai on January 29, the duo aims to "densify their commercial relations while exploring new opportunities for cooperation in transport, logistics and port infrastructure."
The two companies said they intend to develop their respective activities and satisfy the needs of their customers, particularly in terms of digitalization.
Bolloré Transport & Logistics and Cosco Shipping Lines want to intensify international flows, particularly on the African continent, where Bolloré has a network of maritime agencies.
"This new agreement signed with Cosco Shipping Lines is the result of our common desire to develop synergies between our businesses. It also illustrates our ambition to continue the development of our international network by promoting cooperation with strategic partners," Cyrille Bolloré, CEO of Bolloré Transport & Logistics, commented.
"The new agreement has significant meaning to both of the two companies to further develop global business," Wang Haimin, Managing Director of COSCO SHIPPING Lines, said.

CMA CGM Becomes the 1st Ocean Carrier Listed on Freightos
French shipping company CMA CGM has unveiled a pilot agreement with online freight marketplace Freightos whereby the company became the first ocean carrier listed on the platform.
Online bookings, guaranteed pricing, and secured capacity on CMA CGM China-US trade lanes are now available on Freightos, with further extension to additional lanes planned in the near future.
The shipowner said that, through this deal, it "reinforces its position as a digital leader within the industry and takes yet another step towards its customer-centric strategy, offering importers and exporters of all sizes direct access to instant pricing, routing, and concrete sailing information in seconds, as well as guaranteed capacity."
CMA CGM explained that this development represents a real change for the industry because for the first time, global shipping on key trade lanes functions like passenger travel or ecommerce, where customers can obtain guaranteed prices within seconds.
"This initiative demonstrates our commitment to customer centricity. We've been on a journey to provide our customers with innovative offerings to ensure them the best shipping experience. This partnership raises the bar for ourselves, and the industry, with this important step into the digital era, selling directly to shippers on Freightos," Mathieu Friedberg, Senior Vice President – Commercial Agencies Network at CMA CGM Group, said.
"With CMA CGM selling on Freightos, smaller shippers now have direct access to a major carrier with competitive pricing. Additionally, shippers of all sizes will have access to guaranteed prices and capacity," Zvi Schreiber, CEO and founder of Freightos, added.

Industrial scraps found hidden in 20 containers
After examining 20 shipping containers at Cat Lai Port, customs officers on December 6 found most of them contained industrial waste, Nguoi Lao Dong newspaper reported.
The Saigon Port Border Customs Sub-department Region I, on December 6, collaborated with the Customs Supervision Team under the HCMC Department of Customs, the border defense force at Nha Rong Harbor and representatives of shipping lines to conduct an examination of 20 out of the total 25 containers of goods imported by Tri Quang Transportation Services Trading Co., Ltd, in District 2, following the previous confiscation of five of its cargo containers due to their storage of waste.
The investigation turned up all manner of scrap, including second-hand water pumps and water meters, electric wires, plastic bags and junk iron, which are barred from import into the country due to their high risk of causing pollution.
Earlier, at the end of October, the company had issued a customs declaration for five goods containers out of a total batch of 25, imported from Japan. The sub-department acted on its suspicions by unsealing five of the containers, which turned out to contain industrial waste.
The company had declared in its statement that the goods included machinery imported from Japan.
After the customs agency confiscated the five containers of goods, Tri Quang Company withheld further import declarations for the remaining 20 goods containers. The competent agencies investigated its listed headquarters and found it was only a car wash.
Source: World Maritime News; American Shipper; Shipping Containers, Bussiness Breaking News