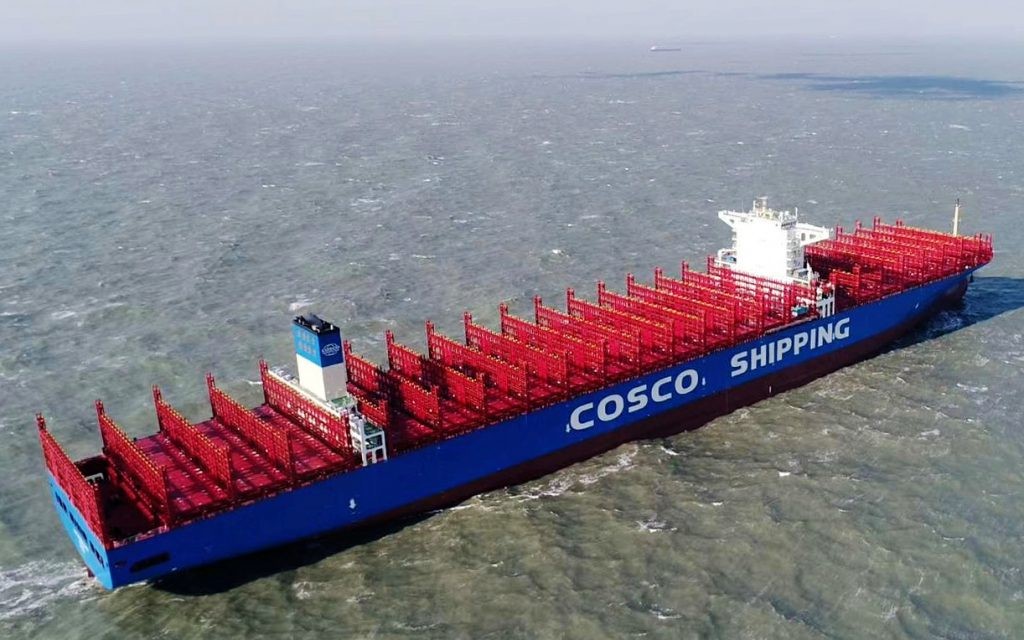 Hapag-Lloyd CEO Dismisses Overcapacity Fears
The container shipping industry has braved the storm over the past couple of years getting to grips with tonnage overcapacity through consolidation, mergers and acquisitions, as well as abstaining from ordering new ships.
The recovery the container sector made last year is fragile and improved freight rates are likely to become a short-lived trend.
Specifically, as gains are starting to be reaped from the industry-wide efforts to bolster earnings, worries have emerged that a massive wave of tonnage influx may ensue since owners are rushing to the yards to rejuvenate their fleets ahead of the 2020 Sulfur Cap and BWMC implementation. Namely, liner majors have broken the ordering silence from December 2015 seeing that companies such as Evergreen and Yang Ming have announced investments in 20-strong batches of boxships each.
However, according to Hapag-Lloyd's CEO, Rolf Habben Jansen, there is no room for overcapacity fears.
As disclosed earlier, Jensen believes that the consolidation in the sector would continue, further reducing the number of largest shipping firms as they merge their businesses, bringing the total to nine out of former 20 largest shipping companies.
MOL Tied to Bulker Order at Oshima
Japanese shipping company Mitsui O.S.K Lines (MOL) has placed an order for three 56,000 dwt bulk carriers with compatriot Oshima Shipbuilding, according to Asiasis.
The three bulker newbuildings are said to be scheduled to join MOL's fleet in 2021.
MOL is reportedly paying USD 24 million per ship.
The shipping major already has 70 bulkers in its diversified fleet, totaling in 8.04 million dwt, data from Vessels Value shows.
The order is being reported in the wake of a major recovery of the dry bulk sector which is expected to continue in the next couple of years amid restoring of balance between supply and demand.
For the nine-month period from April to December 2017, MOL reported 14.6 percent higher revenue year-on-year and 53.6 percent higher profit year-on-year, standing at JPY 29.2 billion.
The better financial performance was mainly driven by the group's containership business which reported 26.8 pct higher revenue year-on-year and its dry bulk shipping unit which reported 19.8 pct higher profit year-on-year.
NYK Develops Tool to Detect Ship Engine Malfunctions
Japanese shipping company Nippon Yusen Kabushiki Kaisha (NYK) has developed a diagnostics tool that collects and visualizes the sound of an engine as part of the company's efforts to use big data.
Developed in collaboration with MTI Corporation, the system, named Kirari Muse, will help prevent accidents, according to NYK.
As informed, a pilot operation will be carried out with an NYK-operated vessel.
The system consists of a tool for diagnostics that based on the sound of the engine will analyze its condition.
NYK explained that based on the sound data collected while sailing on daily basis, it will be possible to detect the differences in the sound emitted and detect potential malfunctions.
Earlier this month, NYK, MTI Co. Ltd., Nippon Telegraph and Telephone Corporation (NTT), and NTT DATA Corporation conducted a proof-of-concept experiment for a next-generation onboard IoT platform. The test was held aboard a coastal vessel and the companies now plan to perform the experiment on an oceangoing ship.
CMA CGM Newbuild Makes Maiden Call at Busan Port
Busan New Port BNCT Terminal welcomed on February 6 the 20,600 TEU CMA CGM Antoine de Saint Exupery, one of the largest containerships in the world.
Built at HHIC-Phil's Subic facility, the giant boxship was delivered to its owner, CMA CGM, in January 2018.
CMA CGM Antoine de Saint Exupery is the largest container vessel that entered Busan Port since its opening, according to Busan Port Authority (BPA). What is more, it has become the largest vessel that called Korea, BNCT said.
The 400-meter-long vessel is deployed in French Asia Line 1 service which connects Asia to Northern Europe. It will offer services to Ningbo, Shanghai, Singapore, Algeciras, Rotterdam and Le Havre having loaded 3,500 containers at Busan Port.
Vessels with a loading capacity of over 20,000 TEU have continuously entered Busan Port since the 20.568 TEU Madrid Maersk called at Busan Port last April.
"20,000 TEU class ships usually call at HJNC or PNIT, but Saint Exupery is the first 20,000 TEU class vessel that entered BNCT," Woo Ye-yong, President of BPA, commented.
Maersk Line Books 15,000 TEU Boxship Duo at HHI
Danish container shipping major Maersk Line has exercised an option for the construction of two 15, 200 TEU containerships at Hyundai Heavy Industries (HHI).
The options date back to a contract signed in 2015 for the construction of nine 15,200 TEU boxships plus eight additional ships of the same size.
The two ships will be delivered in the second half of 2019, the company said in its Annual Report for 2017.
As explained, the company lifted the two options in the fourth quarter of 2017 as new tonnage is needed to meet increased demand. The move has also been attributed to the ongoing network optimizations.
The order comes as a surprise to the market especially on the back of Maersk Line's repeated statements that it doesn't plan to order any new ships in the future.
"While our preferred way of growing the fleet is through investments in second-hand tonnage, this also includes reviewing the market for container vessels – large and small, new and chartered. The H-class vessels represent a unique segment not available in the second-hand market," Maersk Line spokesperson told World Maritime News in a statement.
In 2017, Maersk Line took delivery of five second-generation Triple-E's and four 15.2k TEU vessels, which had been ordered in 2015.
The new vessels have replaced their older, less efficient counterparts, and have seen Maersk Line recycle 16 vessels in 2017. Out of 27 ships Maersk Line ordered in 2015, 18 vessels remain to be delivered by the first quarter of 2019.
Source: World Maritime News