On May 9, 2021, Tan Cang - Cai Mep International Terminal (TCIT) welcomed the HANSA RENDSBURG vessel from the NANSHA port (China). This is the maiden call of CI8 (China India No. 8) – the new service operated by Wan Hai Lines, directly connecting Vietnam to India.
Continuing to expand its extensive Intra-Asia and West India network, Wan Hai Lines has operated this new weekly service connecting South China - Vietnam and West India. Its rotation is as follows: HONG KONG - NANSHA - TCIT - PORT KLANG - NHAVA SHEVA - COLOMBO - PORT KLANG NORTH PORT - DA NANG - HAI PHONG - HONG KONG, composed of a fleet of 04 vessels with a capacity of 2,100 TEU.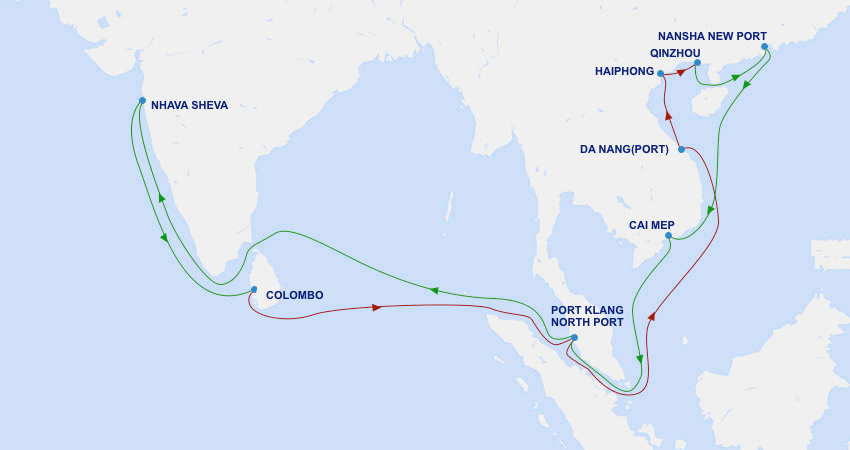 India is one of the 10 largest trade partners of Vietnam with over US$10 billion of total trade value and is continuously increasing. In 2020, Vietnam is India's 17th trading partner and 4th ranked among ASEAN countries after Singapore, Indonesia and Malaysia. Main products exported from India to Vietnam are iron, steel, meat, seafood, cotton, pharmaceuticals, auto parts, machinery and imported from Vietnam are machinery products, equipment, phones, chemicals, copper, coffee, iron and steel. In the context of growing trade between Vietnam and India, this service is of great significance not only to TCIT in increasing handling capacity, continuing to affirm the trust and long-term cooperation of Wan Hai Lines and TCIT, but also good news for importers and exporters, offering customers to have more service options as well as to save time and cost when the transit time from Ba Ria - Vung Tau (TCIT) to West India (NHAVA SHEVA Port) is only 9 days.
Being aware of deep-water ports' key role in mutual trading promoting between Vietnam and worldwide, TCIT has been focusing on more modern equipment investments to increase productivity, improve service quality, and meet the higher demands of the global supply chain, becoming a reliable transshipment hub of Cai Mep - Thi Vai region in particular and Vietnam in general.