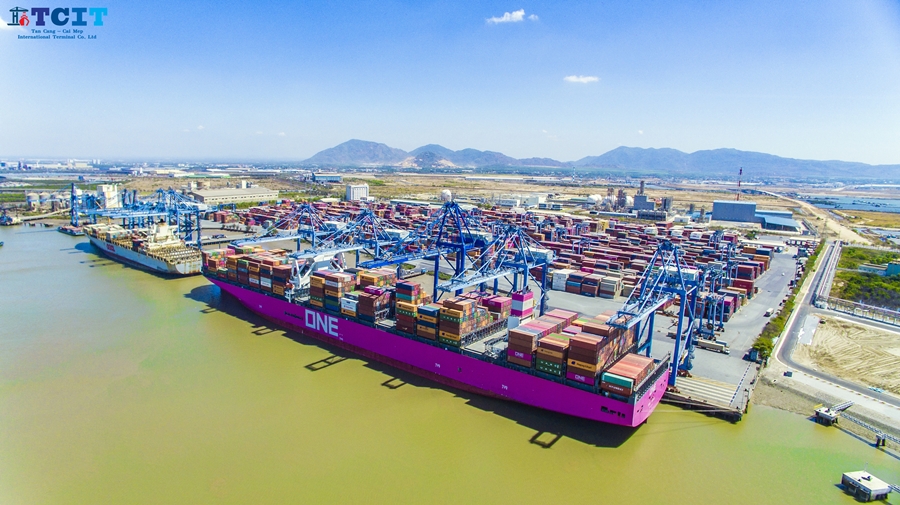 On 15/02/2020, Tan Cang – Cai Mep International Terminal (TCIT) has once again set the new highest handling record per vessel while dispatching ONE GRUS (belong to FE5 Service connects Vietnam - Europe) deployed by THE Alliance with the handling volume of 12,562 TEU, broken the previous record set on December 2019 on the same vessel.
Within only almost a year, TCIT has continuously set the record for handling volume per vessel with extremely impressive results, reflecting the consecutive growth of the export and import cargoes between Vietnam and Vietnam's main export markets as US and Europe.

During 2019, in according with the development of Vietnam as well as Southern key region economy, TCIT has concentrated in investing more modern equipment to increase service quality and business capacity. Throughput volume of TCIT in 2019 reached nearly 2 million TEU, strongly increased by 20% compared to 2018; continually to maintain the largest market share at Cai Mep – Thi Vai area. TCIT currently receives 09 mother vessel of the international service lanes calling per week linking to North America, Europe and Intra – Asia as well as 05 domestic feeders connecting with the North and Central Vietnam, 12 feeders/ barges to Cambodia and 330 barges gathering cargoes from nearby areas like Ho Chi Minh City, Dong Nai and Binh Duong province.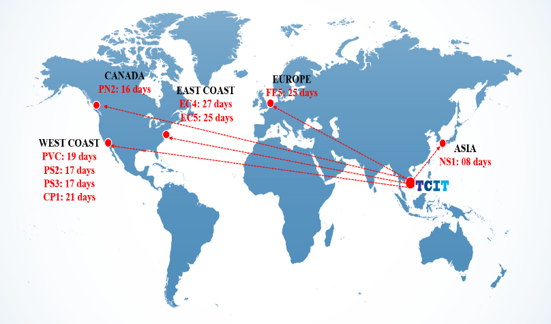 Current international service lanes at TCIT
Together with the integration and development trend of the southern key regional economy in particular and Vietnam in general, these achievements have affirmed the importance and position of TCIT - the largest deep-water terminal and the first runner-up in terms of the throughput volume, ranked only after Tan Cang - Cat Lai Terminal.
The new record set in the context of the economy all over the world, including Vietnam, are affected by the Coronavirus and the EU-Vietnam Free Trade Agreement (EVFTA) approved by the European Parliament that help us to have a more optimistic view in our country's economy these days and in the future.

--------------------------------------------------------------------------------------------------------
Vào ngày 15/02/2020, Cảng Quốc tế Tân Cảng – Cái Mép (TCIT) đã thiết lập mức kỷ lục mới về sản lượng xếp dỡ trên 1 tàu mẹ khi tiếp nhận tàu ONE GRUS (thuộc tuyến dịch vụ FE5 kết nối Việt Nam – Châu Âu) do liên minh THE khai thác với mức sản lượng xếp dỡ 12.562 TEU (1 TEU = 1 container 20'), phá vỡ mức kỷ lục vừa mới được thiết lập vào tháng 12/2019 cũng trên tàu ONE GRUS này.
Chỉ trong vòng chưa đầy 01 năm vừa qua, cảng TCIT đã liên tục thiết lập các kỷ lục về sản lượng xếp dỡ trên 01 tàu mẹ với những con số vô cùng ấn tượng, phản ánh bức tranh về sự tăng trưởng lên tục của hàng hóa xuất nhập khẩu giữa Việt Nam và những thị trường xuất khẩu chính của Việt Nam là Mỹ và Châu Âu.
Năm 2019, cùng với sự phát triển của kinh tế cả nước và khu vực trọng điểm phía Nam, TCIT đã chú trọng đầu tư trang thiết bị hiện đại nhằm nâng cao hơn nữa về chất lượng dịch vụ và gia tăng năng lực sản xuất kinh doanh. Sản lượng thông qua cảng TCIT đã đạt gần 2 triệu TEU, tăng gần 20% so với năm 2018; Tiếp tục giữ vững thị phần lớn nhất tại khu vực cảng nước sâu Cái Mép – Thị Vải. Hàng tuần, TCIT tiếp nhận 09 chuyến tàu mẹ kết nối Việt Nam đến khu vực Bắc Mỹ, châu Âu và Nội Á cùng 5 chuyến tàu nội địa kết nối Miền Bắc và Miền Trung - Việt Nam, 12 chuyến sà lan trung chuyển đi Campuchia và 330 sà lan tập kết hàng hóa từ các khu vực lân cận như Tp. HCM, tỉnh Đồng Nai và tỉnh Bình Dương.
Cùng với xu thế hội nhập và phát triển của nền kinh tế khu vực trọng điểm phía Nam nói riêng và Việt Nam nói chung, những thành quả này đã khẳng định được tầm quan trọng và vị thế của TCIT – cảng nước sâu lớn nhất cả nước và là cảng có sản lượng thông qua lớn thứ 2 Việt Nam chỉ sau cảng Tân Cảng - Cát Lái.
Kỷ lục mới được thiết lập trong bối cảnh nền kinh tế Thế giới và trong nước bị xáo trộn bởi dịch virus corona và Hiệp định thương mại EVFTA được thông qua bởi Nghị viện Châu Âu giúp chúng ta có một cái nhìn tươi sáng hơn đối với nền kinh tế của nước ta trong thời gian này và tương lai.