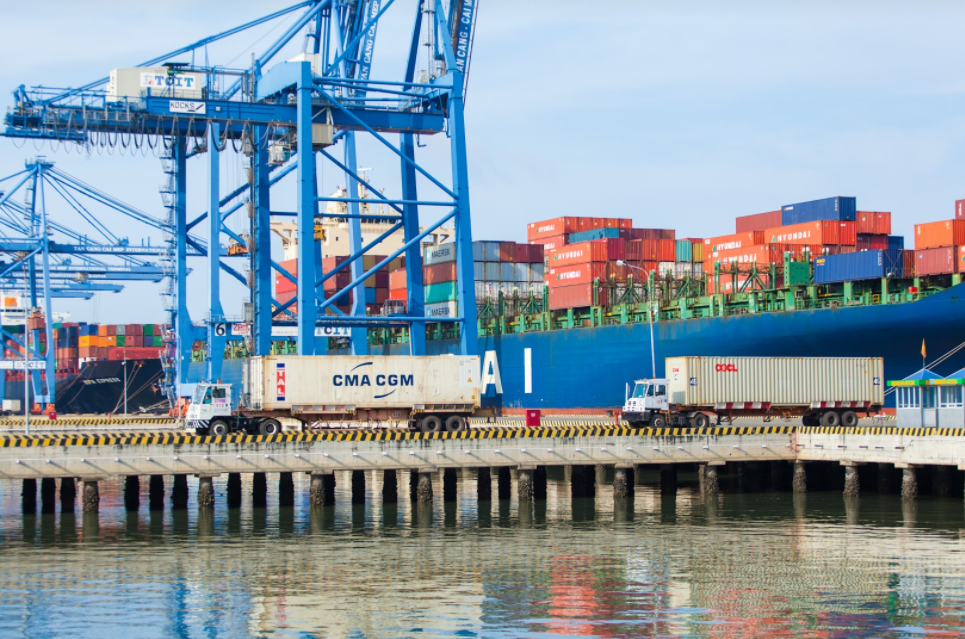 On 08 June, 2016, TCIT coordinated with Saigon Newport Corporation (hereafter called SNP) to organize "Customer Meeting" at Tan Cang Cai Mep terminal complex in order to strengthen direct delivery at the area. The workshop attracted over 170 guests representing carriers, forwarders, Logistic Companies, shippers in the industrial zones in Dong Nai, Ba Ria - Vung Tau and customers having direct delivery at the area. To the Customs, they attended the seminar with representatives of Customs Department of Ba Ria Vung Tau province and Customs Sub-Department at Cai Mep port, Phu My port and other related parties.
At the seminar, representatives of Saigon Newport Corporation introduced an update on the development of Tan Cang Cai Mep terminal complex in the past years, which emphasized that the number of service lanes at Tan Cang - Cai Mep was increased in 2015, contributed to a significant increase in throughput volume (over 28%) of the port of Cai Mep - Thi Vai.
Also in the framework of the conference, BR-VT Customs Department recorded some comments of enterprises that reflect on a number of problems related to the customs processes, procedures. Mr. Nguyen Van Danh, Cai Mep Sub-Department head, said, in recent years, Sub-department has made great strides in reform in order to create maximum favorable conditions for enterprises to carry out procedures at the unit. Regarding enterprise's concerns about having to wait to do the procedures in Monday's morning every week due to the Sub-Department weekly briefing meeting. He also said his office is willing to reschedule the meeting for priority of conducting customs procedures, not for customers to wait any more. Lastly, he stressed, if any procedure is difficult, these enterprises can gather to make proposals to the competent authorities for consideration.
Answering to the concerns of carriers related to procedural difficulties in transshipment declaration under the provisions of Decree 08/2015 / ND-CP and Circular 38/2015 / TT-BTC, Mr. Le Van Thung, Deputy Director of BR-VT Customs Department, said, the current problems were resolved in the Cai Mep port area. Transshipment within the Cai Mep port complex need not open independent customs declaration any more.
Representatives of the Corporation's Board of General Directors gave answers to customers' questions at the conference, presented SNP's solutions to enhance logistics activities at Tan Cang Cai Mep terminal complex, focusing on main contents: Investment and development of ICD Tan Cang - Nhon Trach to help customers have one more place to perform customs procedures as well as the place to handle empty containers and raise the quality of container services in Tan Cang - Cai Mep terminal complex to encourage carriers to allow the dropping and taking empty, minimize transportation costs. SNP's representatives insisted that The corporation will create maximum favorable conditions for shippers, carriers to increase direct delivery volumes at the port of Cai Mep - Thi Vai, which will bring benefit to all concerned parties.
Tan Cang - Cai Mep terminal complex has started operation since June of 2009. After seven years in operation, the terminal complex has become a trusted destination of shipping liners and export-import shippers in providing services to vessels and cargos. However, nearly 90% of the current import and export goods at Cai Mep still has to transported by the barge to Cat Lai port, ports and ICDs in Thu Duc, Dong Nai and Binh Duong. That puts high pressure of berths and routes to ports and ICDs. The effective solutions to the problem of direct delivery will help exploitation of Cai Mep cluster become more efficient, then Cat Lai Port will also have better conditions and ensure quality of service as expectation of customers.
The seminar took place in a serious and inquisitive atmosphere and all parties had open communication. Customers really appreciate the efforts of SNP Corporation in making these measures to attract direct delivery at Tan Cang - Cai Mep and believe that the solutions will be implemented properly to create best conditions for customers to increase volume of direct delivery at Tan Cang - Cai Mep terminal complex.